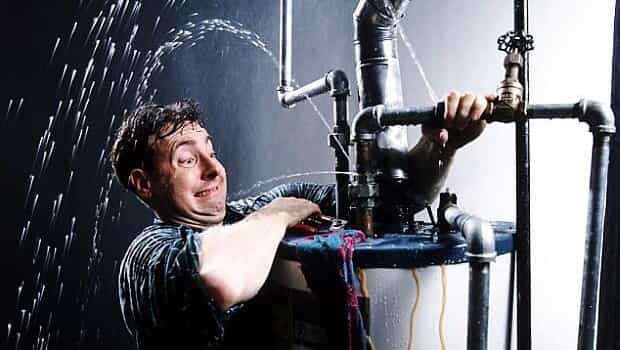 My Georgia Plumber is proud to offer Leak Defense and installation. Insurance claims to repair and replace damage done as a result of flood or fire damage, but they cannot replace family photos, antiques, artwork, and other priceless treasures once the water has destroyed them. Installing the Leak Defense System in your primary or secondary residence can help prevent the destructive nightmare caused by a plumbing leak.
How Does It Work?
Once installed the system uses your pre-set parameters to monitor water flow through your home's plumbing system 24 hours a day 7 days a week 365 days a year. Leak Defense is so sensitive it can often catch small leaks even before they become problems. If an increase in flow is detected an alarm sounds, if no one is home the system simply turns off the water and notifies you of a problem before any serious damage can occur, saving you tens of thousands of dollars in potential damage.
What Type of Residence Can It Be Installed?
The Leak Defense System can be installed on any home or commercial property. It can even be connected to a home security company for added peace of mind.
Can It Detect Small Leaks?
An average residence loses 22 gallons of water a day to leakage. Some of the more common culprits are leaking toilets, dripping faucets, failed pressure regulating valves, and leaking water heaters. Leak Defense can detect works off of your parameters and can detect even small amounts of water loss as in these examples. Detecting small plumbing problems not only saves you money but also can prevent costly water damage and burst pipes.
Here Are Some Startling Facts:
Property damage resulting from water damage due to plumbing failures and freezing pipes is the second most common cause of homeowner loss.
Water caused $9.1 billion in annual homeowner policy property losses annually from 2007 to 2009 – approximately 23 percent of all homeowner property losses.
Water-damage claims, most from leaky or burst pipes, are the primary cause of rising property insurance costs. According to the North County Times story, in California, water damage represented 32% of all claims in 2001, up from 24% in 1997.
High humidity conditions that exist after a water loss create the perfect environment for mold growth.
Leaks can be slow and gradual, taking years to detect until significant property damage occurs, or there can be large leaks that quickly produce a variety of damaging results.
"Water damage claims have been growing faster than other components of homeowners insurance." — American Insurance Association
In the U.S., water damage is the second most frequently filed insurance claim and has accounted for more than $5 billion of reported* claims each year from 1999 to 2003. *These figures do not include homeowner deductibles or unreported losses.
Up to 93% of the cost of water damage could have been prevented or minimized if an automatic water leak detection and shut-off system had been present in the homes, according to an ACE Private Risk Services study of damage sustained by affluent homeowners.
ACE Private Risk Services estimates the average cost of repairs for this damage could exceed $20,000, compared to only $6,000 for damage related to roof leaks and other causes of loss that the system would not have prevented.
"Water damage claims typically came to "no more than $600" in the 1970s," recalls James Guyan at Augusta Mutual. Today, he says, "We have found that these losses range from $2,000 to $30,000 with a mean of most likely around $5,000."
Water Detection vs Leak Defense

Unlike conventional water detection devices that have to get wet before an alarm sounds Leak defense monitors the home's water consumption. Anything out of the norm for your household will be detected and you will be alerted. In the event you are stuck in traffic, at your child's football game or recital, or on vacation Leak Defense will turn your water off until you get home, preventing the disaster. Other systems will just keep sounding an alarm while the damage continues to grow.

Service can be requested by calling our office at 770-268-2331 . You may also request a call back via internet request or schedule service directly online 24 hours a day 7 days a week.

There's no reason to wait, qualifying customers get 100% financing.

My Georgia Plumber installs Leak Defense Systems in Acworth, Alpharetta, Ball Ground, Canton, Cumming, Kennesaw, Johns Creek, Marietta, Roswell, Sandy Springs, Smyrna, Suwanee, Woodstock, and surrounding areas.

New Dishwasher Installation » « Preventing Frozen Plumbing Pipes