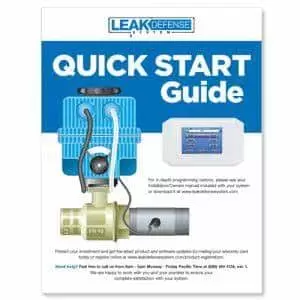 Protect Your Home from Costly Plumbing Leaks with Leak Defense
At My Georgia Plumber, we understand the devastating consequences of plumbing leaks, including the loss of precious belongings and costly property damage. That's why we're proud to offer the Leak Defense System and its installation services. By investing in this innovative system, you can prevent the nightmare of water damage caused by plumbing leaks in your primary or secondary residence. Let's explore how it works and why it's a worthwhile investment.
How Does It Work? An Overview of Leak Defense System
Once installed, the Leak Defense System diligently monitors water flow through your home's plumbing system 24/7, 365 days a year, based on your preset parameters. This advanced system is incredibly sensitive and can detect even the smallest leaks before they escalate into significant problems. By catching and addressing leaks early on, you can save money and prevent extensive water damage and burst pipes.
Can It Detect Small Leaks? Preventing Damage from Common Plumbing Culprits
Did you know that the average residence loses 22 gallons of water per day due to leakage? Common culprits include leaking toilets, dripping faucets, failed pressure regulating valves, and leaking water heaters. The Leak Defense System is designed to detect even minor amounts of water loss, as it operates based on your parameters. By detecting and addressing small plumbing issues promptly, you not only save money but also safeguard your property from costly damage.
Startling Facts About Water Damage: Understanding the Impact of Water Damage
Water-damage claims, primarily stemming from leaky or burst pipes, are the leading cause of rising property insurance costs. In California alone, water damage accounted for 32% of all claims in 2001, up from 24% in 1997. Additionally, the high humidity conditions that follow water loss create an ideal environment for mold growth. Whether it's slow and gradual leaks or sudden large leaks, the consequences can be devastating. Water damage claims have been outpacing other components of homeowners insurance, and the cost of repairs for such damage can exceed $20,000. These losses far outweigh those caused by roof leaks and other factors that the Leak Defense System could have prevented.
Water Detection vs. Leak Defense: The Advantages of Leak Defense System
Unlike other systems that merely sound an alarm, allowing the damage to worsen, the Leak Defense System takes proactive measures to address the issue. By immediately detecting leaks and shutting off the water supply, it helps mitigate damage before it escalates.
Don't wait until it's too late to protect your home from costly plumbing leaks. Contact My Georgia Plumber today to inquire about the Leak Defense System and its installation services.