Plumbing Project Financing
Plumbing Repair Financing
My Georgia Plumber knows plumbing emergencies and projects can sometimes take a serious and unexpected chunk out of a family's budget. This is why we have partnered with GreenSky and Turns to offer our customers several finance options to meet their needs. Whether you just want to stretch your remodel budget a little, need some time for your tax return to come in or take the sting out of an emergency repair, My Georgia Plumber has got you covered.
Landlord? We have options for rental properties. Entrepreneur? Business Owner? Restaurant Owner? Yes! There are options for you. Credit dings? We even have options for those with not so perfect credit. So what are you waiting for? Give us a call today at (770) 954-8038!
GreenSky Financing
Since 2006, the perfect option for homeowners, landlords and business owners has been GreenSky. GreenSky has been a leading company in the consumer finance marketplace specializing in Home Improvement, Retail, Unsecured Loan options and Patient credit. Their corporate headquarters are located in Atlanta, Georgia with a second operational facility located in Covington, Kentucky.
Currently Greensky offers home improvement loans up to $55,000 for home improvement projects for your home, business and/or rental properties. They have a wide variety of loan options available and terms vary from from 12 mo. same as cash to 7.99% reduced interest rate loans for 84 mo. and everything in between. They are sure to have a program to fit your project and your budget.
Applying only takes a moment and a credit decision is usually received in 90 seconds. Call us today at (770) 954-8038 to learn more.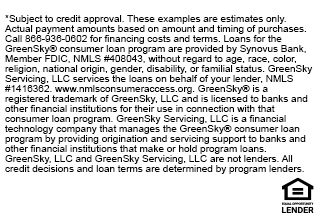 TURNS Financing
My Georgia Plumber is proud to offer TURNS Financing for our customer's who may have a had a little credit trouble in the past.

TURNS Financing has proudly served the home improvement industry since 2011. Turns is managed by home improvement and banking professionals with more than 125 years combined experience. The company utilizes technology to simplify in-home financing for contractors and seeks to provide loan programs to the widest credit range of homeowners seeking to finance a home improvement project. TURNS is our go-to for 2nd look and subprime project financing.
*All finance programs require an application. Applications must be approved prior to the start of any work or service requested.
To learn more about our services and the financing options we offer, call our knowledgeable team today at (770) 954-8038.
Make Us Your
Georgia Plumber
We're Committed to Bringing the Highest Quality
Family Owned & Operated

30+ Years of Experience

Honest Service Not Sales

Available 24/7 for Emergencies

Custom Plumbing Solutions

Same-Day Service
Bulldog

Maintenance Plan
Learn more about what our team is doing to keep your systems in order year round. Save money, stay protected, and let our team handle it!