Commercial Bathroom Repair
Comprehensive Commercial Bathroom Repair Services In North Metro Atlanta
At My Georgia Plumber, we understand the importance of maintaining functional and inviting commercial bathrooms for your Canton, GA business. Our team of experienced professionals is here to provide comprehensive commercial bathroom repair services to keep your facilities in top shape. Whether you're dealing with plumbing issues, fixture repairs, or general maintenance, we have the expertise to handle it all.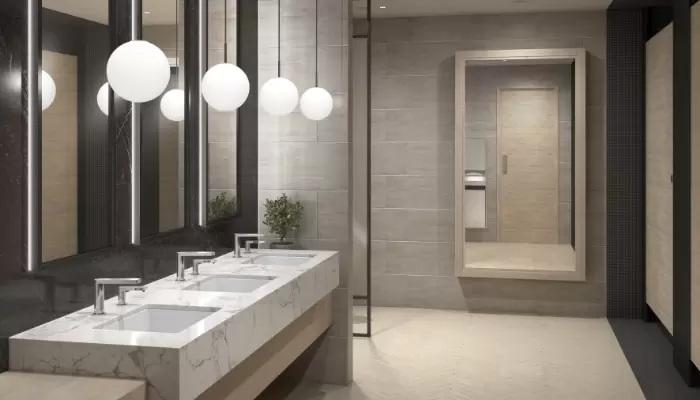 What Commercial Bathroom Repair Services Do You Offer?
It may not be front and center in your location, but your bathrooms are an important part of keeping your customers and employees comfortable, so they need to be in excellent condition. We can help you keep them that way with:
Plumbing Repairs - From leaky faucets and clogged drains to toilet malfunctions and pipe repairs, our skilled plumbers have the knowledge and tools to address all your plumbing needs promptly and efficiently.
Fixture Repairs & Replacements - Whether it's a malfunctioning toilet, a broken sink, or a faulty urinal, our team can repair or replace fixtures to ensure proper functionality and a pleasant user experience.
Clogged Drains & Sewer Line Cleaning - We tackle stubborn clogs in sinks, toilets, and floor drains, as well as provide comprehensive sewer line cleaning to maintain smooth drainage and prevent backups.
Piping & Water Line Repairs - Our experts are adept at diagnosing and repairing issues with water lines, including leaks, bursts, or low water pressure, to restore proper water flow and prevent further damage.
Tile & Grout Maintenance - We offer professional tile and grout cleaning, sealing, and repairs to keep your bathroom surfaces looking clean, fresh, and free from mold or mildew.
Hand Dryer & Paper Dispenser Repairs - We can handle repairs or replacements of hand dryers, paper towel dispensers, and other restroom accessories, ensuring convenience for your patrons.
Accessible Bathroom Modifications - Our team can assist with ADA-compliant bathroom modifications, such as installing grab bars, handrails, accessible toilets, and sinks to ensure compliance and accessibility for all users.
Why Call My Georgia Plumber?
Not only do we have the tools and training to take care of all your needs, we also offer:
Extensive Experience - With years of experience in commercial plumbing, we have the expertise to handle a wide range of bathroom repair issues, no matter the size or complexity.
Prompt & Reliable Service - We understand the importance of minimizing downtime for your business. Our team is committed to providing efficient and reliable service, completing repairs promptly to get your bathroom facilities back up and running smoothly.
Quality Workmanship - Our skilled technicians deliver top-quality workmanship, using the latest tools and techniques to ensure lasting repairs and customer satisfaction.
Transparent Pricing - We offer competitive and transparent pricing, providing upfront estimates and no hidden costs. You can trust us to deliver cost-effective solutions without compromising on quality.
Excellent Customer Service - We prioritize customer satisfaction and aim to exceed your expectations. Our friendly team is dedicated to providing exceptional service, answering your questions, and addressing your concerns promptly.
Avoid Lavatory Lapses With My Georgia Plumber
Don't let bathroom repairs cause inconvenience for your customers or employees. Trust the experts at My Georgia Plumber to handle all your commercial bathroom repair needs. Contact us online or call 770-268-2331 today to schedule a consultation and experience our reliable and professional service.