Commercial Urinal Repair
Expert Commercial Urinal Repair Services For Your North Metro Atlanta Business
When it comes to commercial urinal repair for businesses in Canton, GA, My Georgia Plumber is your trusted partner. Our skilled technicians have the experience and expertise to handle a wide range of urinal issues, ensuring optimal functionality and a clean restroom environment for your company. From repairs and replacements to routine maintenance, we've got you covered.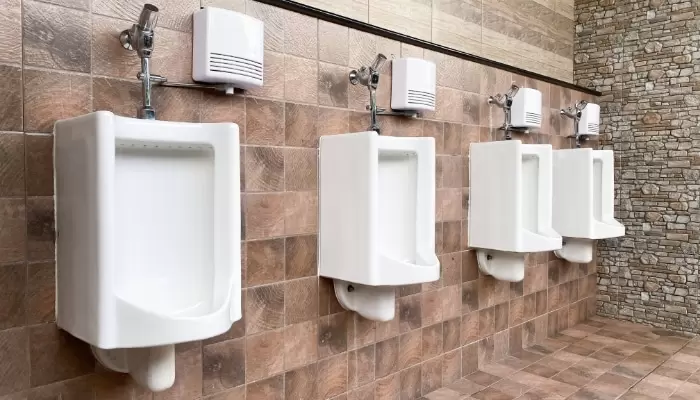 What Commercial Urinal Repair Services Do You Offer?
Your customers, clients and employees all deserve a chance at relief when they're at your business, so we make sure we're prepared for anything that might happen with your urinals. Some of our services include:
Clog Removal - If you're dealing with a clogged urinal, our technicians will quickly and effectively remove the blockage, restoring proper drainage and preventing further issues.
Flushing Mechanism Repair - A malfunctioning flushing mechanism can lead to inconsistent flushing or no flushing at all. Our experts will diagnose and repair any issues with the flushing system, ensuring reliable performance.
Leak Detection & Repair - Leaky urinals waste water and can cause damage to surrounding structures. We'll identify the source of the leak and provide prompt repairs to stop the leak and prevent further water damage.
Valve & Sensor Repair - Faulty valves and sensors can lead to improper flushing or continuous running water. Our technicians will repair or replace these components, ensuring proper functionality and water conservation.
Urinal Fixture Replacement - If your urinal is beyond repair or you're looking to upgrade to a more water-efficient model, we offer professional urinal fixture replacements. We'll help you select the right fixture and handle the installation seamlessly.
Routine Maintenance & Cleaning - Regular maintenance is essential for the longevity and cleanliness of your urinals. We offer comprehensive maintenance and cleaning services to keep your urinals in optimal condition and prevent future issues.
Why Choose My Georgia Plumber?
Simply put, because you want the best. But if you're looking for other reasons:
Experience & Expertise - We specialize in commercial plumbing services, including urinal repairs. Our technicians have the knowledge and experience to handle urinal-related issues in various commercial settings.
Prompt Response - We understand that a malfunctioning urinal can disrupt your business operations. Our team responds promptly to service calls, minimizing downtime and inconvenience for your customers and employees.
Quality Workmanship - We take pride in our work and deliver top-quality repairs and replacements. Our technicians use industry-standard techniques and high-quality materials to ensure lasting solutions.
Transparent Pricing - We offer upfront and competitive pricing, with no hidden costs. You'll receive a detailed estimate before any work begins, allowing you to make informed decisions.
Excellent Customer Service - Customer satisfaction is our priority. We strive to provide exceptional service, with friendly plumbers who are attentive to your needs and address any questions or concerns you may have.
Get In Touch Today For Professional Commercial Urinal Services
Ensure your commercial urinals are in top working condition with the help of My Georgia Plumber. Trust our expertise to keep your restrooms clean, functional, and hassle-free. Contact us online today or call 770-268-2331 to schedule a consultation or service appointment!