Sewer Line Repair & Replacement in Canton
Repairing Clogged & Damaged Sewer Lines in North Metro Atlanta
A clogged drain in the kitchen, bathroom or laundry room is inconvenient and disruptive to your daily routine. Often, the cause of recurring drainage problems is a large clog in the main sewer line or sewer line damage. In either case, My Georgia Plumber can help. We have more than three decades of experience providing sewer repair and replacement services in Canton, Ball Ground, Suwanee, Roswell and all of North Georgia.
Our services include:
Sewer Cleaning
Sewer Line Repair
Sewer Line Replacement
Sewer Line Camera Inspections
Drain Repair
Drain Installation
Drain & Sewer Camera Inspection
We are equipped with the best tools and technology for reliable sewer camera inspections in Canton, Milton, Cumming, Sandy Springs and the surrounding North Metro Atlanta communities. We use electronic line locators and sewer cameras to ensure proper diagnosis of problems in drains and sewer lines. Sewer cameras enable our technicians to look inside the full length of the line to detect problems, such as clogs, tree roots growing into the line or cracked, broken or collapsed sewer lines.
The use of these technologies allows us to understand the full scope of the problem and provide an accurate estimate for the cost of the work that is needed to clear a clog or repair the drain or sewer line.
Call 770-268-2331 today for help if you suspect a sewer line problem. Same-day service may be available!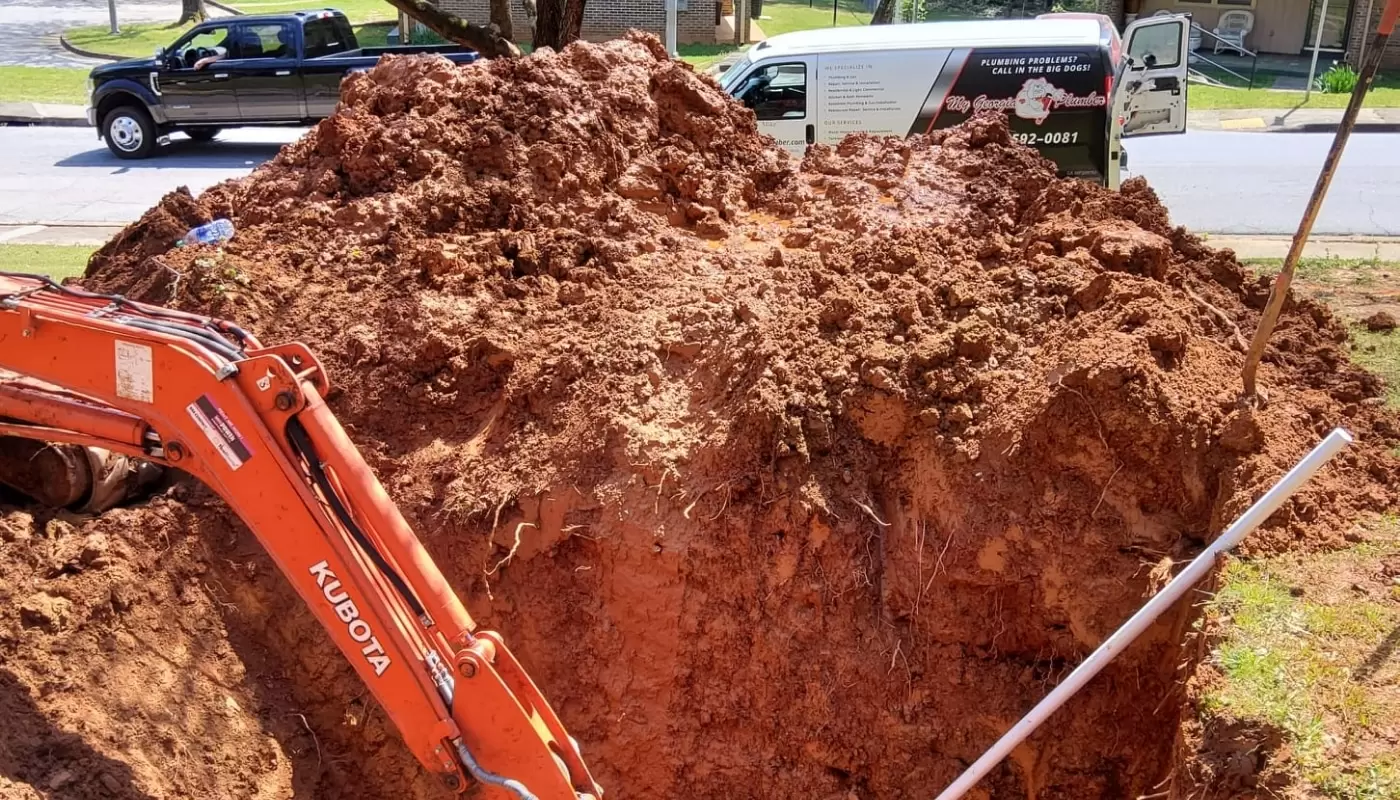 My Georgia Plumber is a fully licensed and insured master plumbing contractor serving the drain and sewer plumbing needs of customers throughout North Georgia. Our Canton sewer repair technicians are handpicked, drug free, background checked professionals who participate in regular training to remain updated on all new plumbing technology and products.
We offer prompt same-day service for drain clogs and minor sewer repairs for requests made Monday through Saturday before 2 p.m. Next-day sewer line replacements are possible, as long as the utility line locates have been completed. We offer estimates for sewer line repair services.
We understand that an unexpected major problem, such as a damaged or collapsed sewer line, can be difficult to manage. We have special financing options through GreenSky for jobs of all sizes.
Signs You May Need Sewer Line Repair or Replacement
Sewer lines are underground, but just because they are out of sight does not mean that it's impossible to tell when something goes wrong with them. Here's a brief list of things to watch out for:
An unexplained spike in your water bill.
Frequently clogged drains throughout the home.
Odors of sewer gas around your property.
Soggy and/or unusually lush lawn.
Rodent and/or insect infestation.
Our technicians are standing by to solve your plumbing problems. Call us today at 770-268-2331 .
Depending on the nature of the problem, a drainage issue may be resolved through a sewer cleaning service. Sewer cleaning involves the use of specialized equipment to break up stubborn blockages deep within the sewer system and flush them away, improving the flow of water and eliminating drainage problems. Sewer cleaning is safe, efficient and effective. As a preventive maintenance service, we recommend that homeowners consider having their sewer lines cleaned about every two years.
If you're dealing with recurring drain clogs and suspect a problem with your main sewer line, call 770-268-2331 or contact us online now for prompt help.