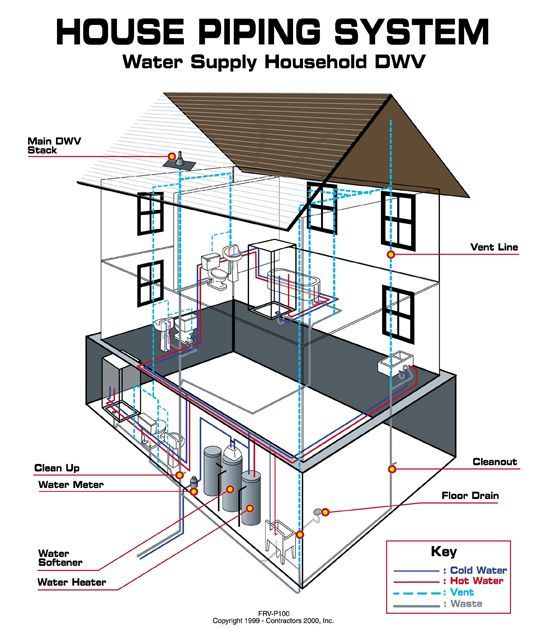 What Is Whole-Home Repipe?
No plumbing device is invincible, and even the safest, most durable pipe systems will eventually break down. If the pipes in your house are severely damaged, it may not always be possible to fix a leak with a basic repair. In a large number of cases, a moderate to severe pipe leak can only be fixed by repiping a house.
When Do You Need Whole-Home Repipe?
There are many signs and situations that will require you to repipe your home. For example, if your home is older and built before the 60s or 70s, then you more likely need a new plumbing system. Pipes from earlier decades were typically made of galvanized steel, and as time goes on, those pipes begin to corrode easily.
The key to effectively repiping a house is to identify compromised pipes early and replace them as soon as possible. To do this, watch out for:
Discolored Water May Indicate Rusty Pipes
If the water in your home has become brown, red, or otherwise discolored, it's a sign that the pipes have gotten rusty or moldy. When you notice this, stop drinking or bathing in the water immediately, as it is likely contaminated. We recommend repiping your house in each of the affected areas.
Low or Inconsistent Water Pressure From Misshapen Pipes
Another sign's time to repipe a house includes broken or misshapen pipes. These issues can lead to wild swings in water pressure or to a gradual reduction in pressure. Not only is this inconvenient in the short term, but it means that there is water building up in many of your pipes, increasing the risk of rust or mold.
Weird Tasting Tap Water from Rust & Mold
Rust and mold change the taste of your water, as do minerals that get into it. Any sudden change in taste is a sign it's time to consider repiping your house. Stop drinking your tap water until you have the pipes inspected by an emergency plumber at My Georgia Plumber. Give us a call by phone‬ or schedule an appointment on our website to receive help with a repiping issue.
Frequent Leaks & Clogs
The occasional leak or clog is normal, but if your pipes are frequently springing leaks or getting backed up, it's a sign that they are damaged. The only way to stop persistent clogging and leaking is to replumb your house.
Mold Growth on Water & Sewer Pipes
Even if you have not noticed any water quality or pressure problems, keep an eye out for mold that forms near pipes. Small leaks can cause mold growth by spreading moisture in otherwise dry areas of your home without having a noticeable impact on water pressure. While such leaks can usually be fixed with minor plumbing repairs, if they happen in multiple parts of your home, you may need to perform a repiping project,
These and other problems aren't just inconvenient; they're a threat to your health and safety! It is thus critical to respond quickly by scheduling a repiping appointment with our team. Get an inspection as soon as possible, and if your pipes are severely damaged, don't hesitate to replace them.
What Is The Repiping Process Like?
Should you need whole-home plumbing and repiping, don't be a worry wart! You may have heard that repiping can be very destructive to your home and leave a mess everywhere. This is not the case. In most situations, the process only takes about 2 to 4 days! This is the general rundown of how the repiping will happen:
Preparation for Repiping
After deciding that repiping is what is sustainably best for your home, the plumber will begin to assess where to start. Usually, they can go room by room so that you do not need to completely vacate. You should begin to cover any and all furniture or belongings you do not want to get dusty or dirty.
Installation of New Pipes
Depending on the age of your home and the access to the pipes, this part might be relatively smooth. If anything arises, the plumber should notify you for future action. Water should only have to be shut off for the duration of repairs during the day. The new pipes will be made of copper or plastic such as PEX or CPVC, which are more durable after corrosion and damage.
After Completion of Repiping
When the plumber is done installing the new pipes in your home, they will begin testing to ensure that all is working as it should. Technicians will begin to clean everything up and ensure customer satisfaction.
Once all your new pipes are installed, you should see a difference immediately in your water pressure, quality, and even your utility bill. With maintenance and care, new piping can last for numerous years. Ask today about our Home Care Club Membership and how this plan can keep your plumbing running efficiently!
Who To Call When You Need Plumbing Services
If you have noticed any of the signs of damage or faulty pipes, have one of My Georgia Plumber's repipe specialists come out and inspect for you. While it may seem overwhelming, My Georgia Plumber has a variety of options to help you such as financing or answering questions about improving your home's plumbing!

NO Water In My House – What to Do? » « Are Trees the "Root" of Your Sewer Problems?