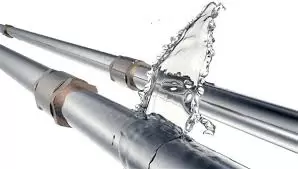 Protect Your Property with the Leak Defense System: A Comprehensive Water Flow Monitor
The Leak Defense System is a cutting-edge water flow monitor and alarm system designed to detect leaks in residential and commercial buildings. With its advanced technology and user-friendly features, this system provides crucial protection against water damage and helps conserve resources. In this blog, we will explore the benefits, operation, and installation of the Leak Defense System, as well as how to schedule an appointment for installation.
Detecting and Preventing Water Damage
The Leak Defense System is a non-intrusive solution that monitors water flow to identify leaks in pipes, fixtures, and appliances.
Continuous water flow triggers an alarm, indicating potential issues such as a ruptured pipe, a leaking appliance, or a slab leak.
Slab leaks can cause severe structural damage and require costly repairs if left undetected.
Intelligent Alarm and Control Panel
The touch-screen control panel provides real-time data and flow status, making it easy to monitor and manage the system.
An audible alarm alerts homeowners to alarm conditions, while the panel displays the specific flow level that triggered the alarm.
The system's motorized ball valve can halt water flow within the structure in the event of an unabated alarm condition.
The control panel guides users in identifying and managing the cause of the alarm, ensuring prompt action.
Resource Conservation and Cost Savings
The Leak Defense System helps conserve water resources by detecting and preventing unknown water loss.
Early detection of leaks prevents thousands of gallons of water from going to waste and damaging the structure's foundation.
Water cost savings can be achieved by addressing leaks before they escalate into significant issues.
Installation Overview and Product Maintenance
The installation process involves replacing a small section of the existing pipe with the Leak Defense System pipe section.
Only nine to twelve inches of linear pipe need to be replaced using a solder spliced-in union coupling.
The Leak Defense System requires no maintenance or service, thanks to its durable and reliable design.
The stainless-steel construction resists deposit buildup, and the system has no noticeable impact on water flow or pressure.
Easy Operation and Service Request
The Leak Defense System operates automatically, detecting water flow and sounding alarms when necessary.
The control panel provides average flow rate information to determine the magnitude and source of water loss.
To schedule an appointment for installation, call our office or request service online 24/7.
Protect your property from water damage and ensure efficient water usage with the Leak Defense System. This innovative water flow monitor and alarm system offers peace of mind by detecting leaks early on and providing valuable data to address potential issues. With easy installation, minimal maintenance, and the expertise of My Georgia Plumber, residents in Acworth, Alpharetta, Ball Ground, Canton, Cumming, Kennesaw, Johns Creek, Marietta, Roswell, Sandy Springs, Smyrna, Suwanee, Woodstock, and surrounding areas can benefit from this advanced solution. Don't wait until a leak becomes a major problem—schedule your appointment today.