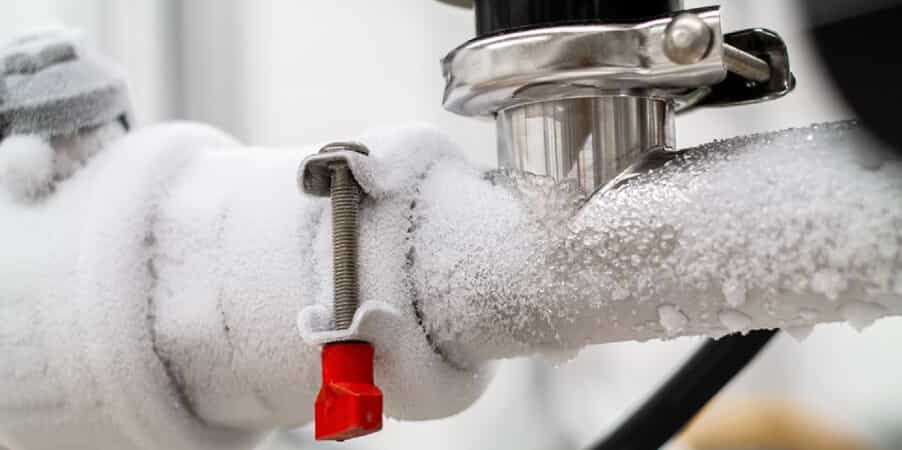 As winter approaches and temperatures drop, there is a danger of broken water lines and burst pipes.
Taking the following measures will help prevent your pipes from freezing:
Make sure all of the pipes in your basement, crawl space and attic are properly insulated to protect them from freeze breaks and to reduce your energy bill.
Allow the heat in your home to circulate to each room of the house.
If your home is over a crawl space, close the vents under the house to prevent cold air from reaching the pipes.
Seal air leaks around the doors and windows to reduce cold air penetration.
Winterize your hose bibs (outside faucets or spigots). If the water inside these fixtures freezes and expands not only will the hose bib be damaged but also the connecting water lines.

Remove all hoses from the hose bibs.
Shut off the water supply to them. (Each individual hose bib should have its own shut-off valve, usually located in the basement or crawl space a few feet back from the outside wall.
If your hose bibs do not have shut-off valves, insulate them – and the piping to them – to prevent freeze breaks. You can buy faucet insulation kits at most home supply centers.
You may also want to consider having My Georgia Plumber install frost-proof hose bibs as extra protection.
Vacation Homes
Homes that are left vacant for any period of time should be winterized to ensure the plumbing system remains fully functional.
Shut off the main water line and drain the system by opening faucets at the highest and lowest points of the house. (Be sure to turn off the power to your water heater if draining the entire system.)
Make sure the heat is left on and set no lower than 55°F to prevent your pipes from freezing.
If your home will be vacant for many weeks or months during the winter, have My Georgia Plumber professionally winterize your home before you leave.
Even after all this preparation, if it is an exceptionally cold winter, your pipes could still freeze. If that happens, do not try to thaw the pipe with an open flame, hairdryer, or any other direct source of heat. Just turn on your faucets and leave them on, then wait for the pipes to thaw slowly. Watch the pipe carefully as it thaws to see if it has burst.

If a pipe has burst, prevent more damage to your home by shutting off the water supply immediately. If the break is near an electrical outlet or device, turn the electricity off at the breaker to avoid an electrical shock. Then call My Georgia Plumber at 770-268-2331  to come and repair the pipe. Next, call your insurance company and, if possible, take photos of the damage to support your claim.

Ready to schedule an appointment? Service can be requested by calling our office at 770-268-2331  or schedule service directly online 24 hours a day, 7 days a week.

My Georgia Plumber provides plumbing and gas service in the North Metro Atlanta area. Cities include Canton, Woodstock, Alpharetta, Holly Springs, Milton, Ball Ground, Cumming, Kennesaw, Marietta, Acworth, Buckhead, Duluth, Roswell, Johns Creek, Suwanee, Sandy Springs, Cartersville & White.

5 Holiday Plumbing Maintenance Tips » « Sewage Ejector Pump and Sewage Grinder Pump