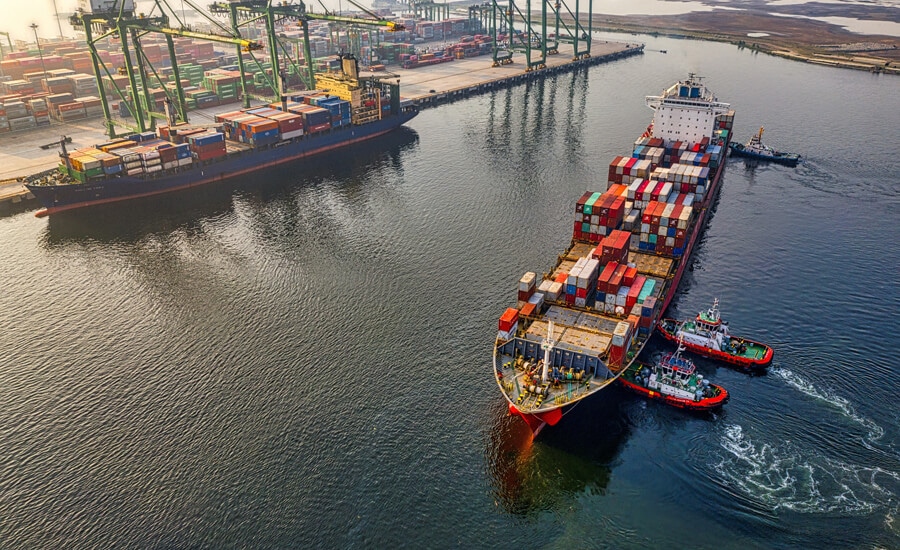 PHCP-PVF industry experts weigh in on projections for 2022.
After enduring a unique set of challenges through 2020 and 2021, industry experts are excited to move forward into another high-demand year. The excitement is coupled with caution, as supply chain constraints, material pricing, and labor shortages are not expected to resolve themselves in the near future.
Industry pros agree residential plumbing, non-oil, and gas-related PVF, Hydronics, and heating are expected to see bounteous demand in 2022.
Bob Mucciarone, chief operating officer at F. W. Webb says specifically, high demand for heat pumps is anticipated in 2022. "As this is expected to be the most expensive heating season yet due to rising fossil fuel costs, we see heat pump technology exploding in 2022. In fact, we are already experiencing a push to go electric and to move away from fossil fuels."
The high demand within the residential plumbing and remodel market will likely continue through most of 2022. Kerry Stackpole, CEO of Plumbing Manufacturers International (PMI) says PMI is projecting a strong 2022. "Our latest market outlook report forecasts a strong 2022, particularly in the residential sector," he says. "Remodeling will continue to thrive and although the commercial side did see a slow-down due to the pandemic, we expect it to rebound through 2022."
Wade Tennant, director of marketing for Legend Valve, expects the plumbing sector to continue strong. "Hydronics will continue to be good, but we do not expect the same level of growth there as with residential plumbing," he says.
Tennant adds the commercial sector presents some concerns, but there are some commercial building projects that will provide demand in the market. "The federal infrastructure stimulus is likely to kick in by the end of 2022, but in the meantime, many segments of commercial construction have been vastly affected by the work from home phenomena and the loss of overall business travelers. Specifically in recreation facilities, lodging, and office," he explains. "Warehouse and distribution facilities will continue to expand along with healthcare facilities."
Rob Ferguson, president, of Winsupply Local Co. Group says he doesn't anticipate a slowdown throughout 2022 in any sector.
Concerns carry over
The anticipated booming business doesn't come without a fair share of concerns — most of which are familiar issues carrying over from the past two years.
"There aren't enough people," is a phrase used all too often.
Ryan Clegg, vice president, human resources at Bradford White brings up the "great resignation."
"The last 12 months has been the period of the 'great resignation' and individuals are aligning their personal needs and values to what specific companies have to offer," he says. "We expect very little change in 2022 when it comes to finding new talent and retaining employees. We are somewhat optimistic that the 'great resignation' period will slow down the last half of the year. From a business/company perspective, we expect to see out-of-the-box ideas for both talent attraction and retention."
F. W. Webb's Mucciarone agrees, saying the company will continue its strategies from 2021 into 2022 in order to navigate the tight labor market. "Finding and keeping good employees has been a challenge over the last year and will continue into next year," he says. "To attract the talent we need and want, we have slid our pay ranges to the right. Paying higher wages paired with offering a competitive benefits package and long-term growth opportunities is helping us attract the best in the industry."
Stackpole points out that the labor challenges are something the PHCP-PVF industry has seen years before COVID-19, but the pandemic accelerated the issue. "The expectations of employees has risen significantly," he says. "They expect solid benefits, solid wages, and the ability to see a career path ahead. People also want to be working on things that matter, which I think is really important."
Or industry can certainly deliver those things," Stackpole continues. "It's about getting the message out and making active changes that benefit today's workforce."
Stackpole adds that resources such as improvement increased access to daycare can help diversify and broaden the pool of candidates for jobs.
Legend's Tennant expects the labor market to become even tighter in 2022. "We expect overall a tighter labor market, but it should continue to open back up from the lows of the last 18 months," he says. "Finding qualified people across all business operations is still a challenge; notably finding warehouse workers continues to be our number one focus and challenge. We will continue to invest in technology to assist in workflow efficiencies with continued labor market concern."
In his 2022 Industry Forecast at ASA's NETWORK conference in November, Chief Economist Dr. Chris Kuehl stated that there is "no relief in sight," when it comes to labor shortages within the manufacturing and construction sectors, among other industries as well.
According to Kuehl, 10.3 million jobs are going unfilled. Kuehl added some bold labor predictions for 2022: Unemployment numbers will vary (U-3 rates at about 4% and U-6 closer to 9%), the quit rate will stay high, and overall workforce participation will remain around 61%.
Have you heard about the disruption?
To no surprise, the other main ingredient in a 2022 industry forecast pie is supply chain disruption.
"The disruption is expected to remain a top concern moving into 2022 and 2023," Winsupply's Ferguson states. "Adding additional inventory and use of technology to communicate more efficiently while embracing digital commerce in all sectors is essential in offsetting the supply chain issues."
Ferguson adds that Winsupply is seeing continual vertical integrations being formed. "These integrations provide an opportunity for all segments of the supply chain and end-users to increase automation. As a result, you drive down the cost-to-serve and provide an opportunity to add back time spent on non-value-add processes."
Tennant too lists continuing supply chain restraints as a top concern for 2022. "We anticipate continued delays in both inbound freight on the west coast and constraints with on-time delivery with overall package carriers," he says. "To prepare, we will continue working with our raw material suppliers to secure our target inventories and continue to focus on our supplier performance rating. Our target is to get back to our long-term average fulfillment in the high 90s to our customers."
The water heat and boiler markets continue to see high levels of disruption.
"We don't expect the supply chain to stabilize much in the first half of 2022 but hope to see improvement sooner than later," says Greg Eynon, vice president of sales and operations at Bradford White. "Businesses need to be able to adapt to bad news quickly and get the focus back on how they can continue to support the customer at the highest level possible."
Eynon adds that although business demand has been strong through the past two years, the industry needs to be prepared for a time when the market decides to level off.
Lack of available truck drivers, along with increased gas prices, are factors helping fuel the supply chain disruption fire. According to Dr. Kuehl, truck demand is up 35.2% since last year (2020) and fuel surcharge rates are 51.2% higher.
Louise Prader, senior director of product management at Bradford White says pent-up demand will continue to strain the supply chain into 2022. "The pent-up demand from the 2020 shutdown, combined with this year's new construction and replacement needs, will continue to outpace the industry's production capacity into 2022," she explains. "For the boiler market, we expect to see patterns continue through the first half of 2022 and some level of normalization in both demand patterns and supply available during the second half of 2022. And the recently passed infrastructure bill may create additional demand that pushes any correction to the supply and demand imbalance further out towards the end of 2022."
High prices, high spending
A nice topic to round out the top concerns of PHCP-PVF professionals as we move into 2022 is inflation.
"Rising energy prices are a concern to keep an eye on," PMI's Stackpole notes. "I haven't quite seen the prices creep up on natural gas and oil, but those things typically follow suit after gasoline prices."
"Everyone in our industry, no matter if you're a business owner, manufacturer, distributor or contractor, shouldn't assume that materials are going to be available," Stackpole continues. "Everything is in short supply. And it's particularly difficult on manufacturers as raw material prices fluctuate. The savvy business owner will be diversifying their supply chain so they have more and better access to multiple resources."
Tennant agrees, saying PHCP-PVF businesses should be keeping an eye on inflationary pressures such as a spike in mortgage rates, higher costs of energy, and material price increases.
"We assume at some point price increases will begin to affect demand, possibly in the second half of 2022," Tennant adds. "PERT tube and alternative fitting systems appear to be higher in demand, mostly due to PE shortages and PEX fittings demand."
Dr. Kuehl's inflation advice is to closely monitor inflation in wages. "When it comes to inflation, commodities are indeed transitory — they go up and down," he says. "Wages are a bit more worrying as once they go up, they don't come back down, and the majority of the spikes we're seeing are with skilled worker wages."
Flexibility and stability
With so many factors at play, customer habits and demands are expected to change, and experts agree remaining flexible is key.

"We expect to see a rise in digital interactions and increased forecasting throughout next year," Winsupply's Ferguson says. "Customers are expecting distributors to be more accessible, allowing for interactions to occur 24/7 and permitting flexibility within the relationship."

Although he expects more movement towards in-person business, Tennant agrees that flexibility is needed to meet customer demand. "While I think the majority of folks still want to meet in person, we think those customers who have gotten accustomed to the digital meeting space and are able to accommodate it better will continue on that path."

In addition to flexibility, consumers are after some sense of stability.

"After a very challenging 18-plus months, everyone is craving some stability at this point," Eynon says. "Even though more disruption is likely ahead of us, our customers expect us to provide the highest quality products in a consistent manner. We are not above market disruption, but we need to make it as easy as possible to do business with us no matter what."

Mucciarone emphasizes that one thing will never change: Customers want PHCP-PVF products wherever and whenever they need them. "We are seeing many customers buying certain products months in advance, and in some cases, we encourage them to do so, and to buy larger quantities."

As we move into 2022, much of what the PHCP-PVF supply chain has been enduring over the past couple of years will continue to affect business. The good news is, the industry has proven its essentialness, many companies have seen record years and product demand is expected to remain high.

Stackpole encourages businesses to continue to find ways to adapt and innovate. "It's not easy, but looking three to four steps ahead is essential right now. Can you source products elsewhere? Can you use a different resource or material?" he asks. "We as an industry will continue to find ways to innovate and improvise, working through all of the factors thrown our way."

Originally posted on December 6, 2021, Supply House Times

2022 Plumbing Price Increases » « 2021 – 2022 Plumbing & HVAC Industry Price Increases