Sump Pump Repair & Installation For Your Canton, GA Home
Living here on the southern East Coast as we do, we've come to expect the possibility that we'll see some severe weather; be it an early summer thunderstorm or a late-season hurricane, things can get pretty wet. As important as water is in our lives, too much of it in your home can lead to catastrophe! That's why you need to protect your home against bad weather or other natural disasters with a capable sump pump, professionally installed by My Georgia Plumber.
A sump pump sits in a pit that collects water when it comes into your basement, and once it rises to a preset level, it automatically switches on to pump that water out and away from your home. It's a vital component in defending your home against water damage, which can quickly become a major headache.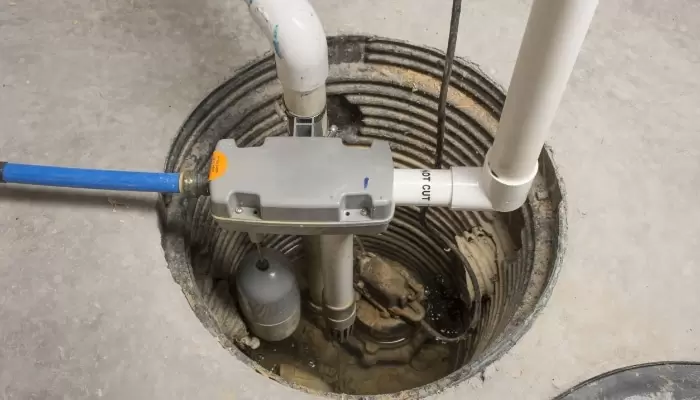 How much does it cost to buy a sump pump?
Basic pedestal sump pumps can start around $100 to $200, while more advanced submersible models with additional features like a battery backup or higher capacity can range from $200 to $500 or more. Prices can also be influenced by the brand reputation and the level of durability and reliability you're seeking. It's advisable to research different options and consult with retailers or professionals to find the best sump pump for your needs and budget.
How many years should a sump pump last?
A sump pump's lifespan can vary based on quality, usage, maintenance, and local conditions. Generally, a well-maintained sump pump can last around 7 to 10 years. Some higher-quality models with proper maintenance might last 10 to 15 years or more. Regular maintenance, such as checking for debris and ensuring the pump is functioning correctly, can extend its lifespan. Considering the potential for heavy rainfall or flooding, it's crucial to replace or upgrade your sump pump if you notice reduced performance or signs of wear.
What Are The Benefits Of Having A Sump Pump?
The big one is obvious - protecting your basement, and ultimately, your home, from the damage excess water can cause. But that's not the only benefit you'll get out of your sump pump. It also:
Helps Control Humidity - Getting rid of all that excess water keeps it from raising your home's humidity, keeping things at a nice, comfortable level.
Prevents Mold & Mildew Growth - When your humidity is at the correct level, mold and mildew are less likely to grow and potentially affect your family's health or damage your home.
Improves Indoor Air Quality - The correct humidity also promotes a healthy indoor atmosphere, letting you and your family breathe easier.
Increases Home Value - Having the sump pump installed can have an impact on your home's worth, as it shows the home has been cared for and is a solid equipment investment.
Reduces Fire Risk - No, the sump pump won't stand in for a fire truck. But water in your basement can cause electrical short circuits, which can lead to fires - keeping the water outside where it belongs reduces that chance.
Plus, you get the peace of mind that comes with knowing that however bad the weather gets or whatever flood risk you're facing, your sump pump will be there, standing guard and ready to automatically get to work to protect your home.
How Is A Sump Pump Installed?
The first step to installing a sump pump involves determining the best location in your basement or crawlspace to situate the unit. A basin will be dug out, (going through concrete if necessary), and this is where the sump pump will reside.
Once it's set up in a stable manner, the plumbing necessary to direct the water out of your home will be installed. "Weep holes" on the sides of the sump pump will allow the water to seep in, and when the pump's float valve hits the selected level, it will cut on automatically and begin pumping the water away from your home. The final step is filling in any vacant areas in the concrete and installing the basin cover to keep everything protected.
Enhance Your Home's Flood Protection Today!
A sump pump can make a world of difference in your home, and help you to avoid soggy situations that can lead to long-term damage.
If you already have a sump pump that needs some attention or are ready to have one installed in your home, send us a message online or give us a call at  770-268-2331 today!