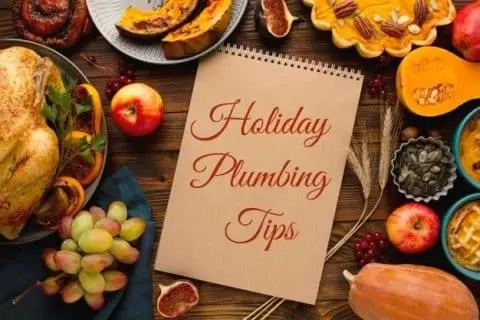 Avoiding Winter Emergencies
Leaves are starting to change, temperatures are cooling off and bonfires are a weekly occurrence. This can only mean one thing – Fall is here! As winter quickly approaches, now is the perfect time to get your plumbing system in order.
Each winter our office receives dozens of calls regarding broken pipes, busted water heaters, and other cold-weather plumbing issues. We have put together a list of our top 5 plumbing maintenance tips to help you prevent a surprise flood or big repair bill this holiday season:
Know where the main water shut-off valve is located
Knowing where your main water shut-off valve is located is essential for all homeowners. Ensuring each occupant in your home knows where this valve is located and knows how to turn it off in the event of a broken pipe or plumbing fixture can save you thousands of dollars in damage. Don't know where yours is? Check out our article "How to Shut Off Your Main Water" or give us a call and one of our friendly plumbing pros will gladly assist you.
Schedule a hot water heater inspection
Water heaters pull double duty during the cold winter months. To keep your water heater in tip-top shape and to ensure warm baths and showers throughout winter, schedule your water heater inspection early this year. One of our hot water heater repair specialists will complete a thorough inspection of your plumbing system, alert you to any deficiencies and ensure your water heater and piping are in the best condition for this year's cold weather.
Winterize spigots and disconnect outdoor hoses from hose bibs
Because garden hoses are made from rubber, constant freezing and thawing weakens them and could cause them to crack. Instead of keeping them outside, disconnect them from your spigots and drain them. Then, store them somewhere that doesn't get below freezing. Once you have stored them away, be sure to shut off your hose bibs at their safety cut-off valves and completely drain them. This should keep them from freezing and cracking when the temperatures drop.
Insulate your pipes and water heater
Installing a hot water heater blanket helps heating costs in the wintertime and is an easy DIY project for homeowners. Once your water heater is snug as a bug, look around your home (especially in the basement), locate any pipes that are openly exposed. These waterlines left in the open are the ones most susceptible to freezing and bursting. Protect your plumbing pipes by insulating them with fiberglass, pipe sleeves, or insulation tape, you'll keep them warm and free-flowing throughout the winter.
Schedule a sump pump inspection
Schedule a sump pump inspection and service with My Georgia Plumber. Cleaning the pit and pump on a regular basis assists in the proper function and extends the life of your product. Pumps exposed to extreme cold can freeze, preventing the pump from operating causing sewage to back up and spillover.
Call in the Big Dogs at My Georgia Plumber or use our easy online booking.