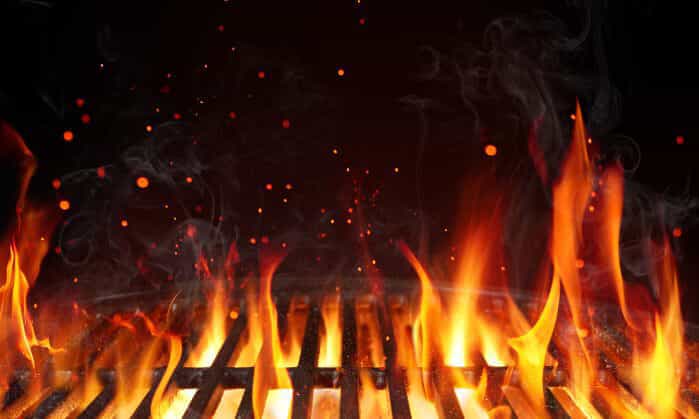 Replenishing the LP (liquid propane) on your outdoor grill is not only inconvenient but also expensive! And we all know, it tends to run out right before that big family barbecue!
Natural gas is becoming increasingly popular due to its convenience and affordability. If your home has a natural gas supply a grill conversion may be easier and more affordable than you think.
Most gas grills have a conversion kit that can be purchased by the homeowner from the manufacturer for usually less than $100. Warning: if the manufacturer of your grill does NOT offer a conversion kit, do not attempt to convert it yourself. In this case, it is better to buy a new grill already equipped with natural gas components.
Clearly, working on gas lines requires extreme skill and attention to detail. There is too much as stake to hire an unlicensed contractor, regardless of how much money you think you may be saving. Some professional plumbers are able to do gas work, or it may be done by a service person from the gas utility company. It is generally not a job for a DIYer, and may even be forbidden by law.
A major consideration with any gas line replacement or pipe upgrade is supply line sizing. Proper sizing of the pipe is important so that each gas appliance receives enough gas to perform properly. Each appliance has a minimum input demand in BTUs per hour and your technician should properly calculate, install and pressure test the properly sized piping for your home or business.
Getting excited about tackling this project?
Here are some basics steps that may help guide you for your gas line project:
Step 1: Determine where to tap the gas line
On the first visit, your service person will look for an appropriate place to tap into an existing gas line. Normally, this will involve finding a gas pipe run that's as close as possible to your deck, patio, or other areas where you will use your grill. For convenience, the service person may choose to tap into the gas supply pipe at a point where there is already a T-fitting or elbow, as this makes for an easy spot to connect a pipe extension.
Step 2: Install a T-fitting
As a first step, the service professional will shut off the gas lines then will install a T-fitting to tap into the gas line. This can be more complicated than it sounds, since black pipe connections are made with threaded fittings, and the service person may need to disassemble some of the pipe run in order to install the T-fitting.
The service person will make these threaded fittings with Teflon tape or "pipe dope" to ensure an airtight fitting, and they may install a shutoff valve in the line just after the T-fitting in order to provide a convenient shut-off point should the pipe run ever need to be serviced.
Step 3: Run gas lines to the outdoors
Now, the service person will begin assembling the pipe run, extending it from the T-fitting through the outer wall of the house using various straight runs of pipes and elbows, as needed. Each fitting will be made with Teflon tape or pipe dope to ensure airtight connections.
Running the gas pipe to the outdoors will require that a hole is bored through the wall or the foundation, and the pipe will now be extended through the wall to a "stub-out" where the gas line will terminate.
Step 4: Install a gas valve
At the end of the stub-out, the service person will now install a brass shut-off valve, again using Teflon tape or pipe dope to ensure an airtight fitting. He will make sure the stub-out is terminated in a valve, as this will make it more convenient to detach the grill if necessary. Gas grills are sometimes connected directly to the stub-out pipe, but this is not good practice, and it may be against regulations.
Step 5: Have the work inspected if required
If local Code regulations require gas work to be inspected, your service professional now will have a building inspector come and look at the work. If the professional has stipulated that the homeowner must arrange for the inspection, make sure to follow through and have it done.
Step 6: Convert the grill, if necessary
If you have an LP grill but want to use it with your home's natural gas lines, you will need to convert the grill—or abandon it and buy a natural gas grill.
Conversion of a grill can be, and often is, done by the homeowner, but only if a conversion kit is offered by the manufacturer. The essence of conversion is to replace the existing gas jet with a jet that has a different aperture size suitable for the different pressure and viscosity of natural gas.
Warning: Do not try to convert a gas jet on your own. While the internet is full of instructions on how to re-drill an LP gas jet to make it suitable for natural gas, all grill manufacturers warn against this, and they may void your warranty if you attempt it.
Step 7: Have the fittings tested
Make sure the technician tests the fittings and connections to ensure that there are no leaks to be found. Most gas contractors have a "sniffer" which is able to search the oxygen level in an area to find a gas leak. Homeowners can also do a "bubble test" by using soapy water on the connections. If any bubbles are blown that means gas is escaping the line. FUN FACT: This also works great on car tires if you suspect a nail hole!

Step 8: Connect the new grill

As a final step, buy an approved gas hose to connect the gas valve on the stub-out to the burner connection on your grill. This flexible hose should be specifically designed for gas—the best ones are made of stainless steel coated with polymers, and are suitable for either natural gas or propane.

You may be surprised to learn that My Georgia Plumber is licensed, certified, and authorized to do all types of work that involve gas lines. Our plumbers have been trained in all of the areas that must be considered when working with natural gas as well as propane, especially when safety must be the primary concern.

My Georgia Plumber also ensures your gas system is brought up to the current building code standards for safety. Our company is a recognized leader of quality, accountability, and professionalism that will save both contractors and homeowners time and money. We specialize in the installation, repair, and maintenance of gas line piping for residential and commercial gas lines and we retrofit from electric to gas or gas to gas.

Residents in and around Atlanta, Acworth, Alpharetta, Ball Ground, Brookhaven, Canton, Cumming, Kennesaw, Johns Creek, Marietta, Roswell, Sandy Springs, Smyrna, Suwanee, Woodstock count on My Georgia Plumber for all their gas line repair and installation needs.

Call us today at 770-268-2331 or schedule your appointment online!

My Georgia Plumber Springs to Action when Sandy Springs Residents Need Us » « Canton Calls My Georgia Plumber