The Holly Mill neighborhood is made up of four subdivisions in the foothills of Canton, Georgia. Those subdivisions are Phase 1 of Holly Mill, The View at Holly Mill, The Enclave at Holly Mill, and The Village at Holly Mill. The residents of Holly Mill have two large pools to enjoy in the summer months, a playground, tennis courts, basketball courts, nature trails, and common areas making it perfect for the active family. The Holly Mill Community is located off 575 and is conveniently located near retail stores, restaurants, parks, and amenities.
Usually, a call to a plumber is not one folks enjoy making because it means you have a problem, but Holly mill residents know they can trust the technicians at My Georgia Plumber. We are the area's honest plumber. Our technicians don't work on commission so they're not going to say you need something that's not necessary.
Call My Georgia Plumber the next time you have a drip or a leak or for any plumbing needs you have. You can count on
My Georgia Plumber in the Holly Mill community. Holly Mill residents have counted on us all of their general plumbing and gas service needs as well as emergency plumbing, water heater installation, bathroom remodels, kitchen remodels, and sewer line replacement and repair.
We have recently become aware of many plumbing issues in the Holly Mill community so we've created the special offer: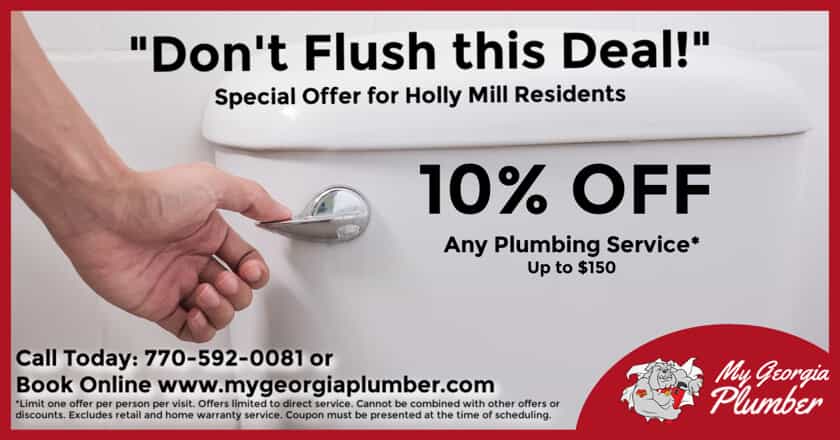 If you live in the Holly mill community and you have plumbing problems, give My Georgia Plumber a call at 770-268-2331 or simply book online.

What Kind of Water Heater is Right for Your Home? » « Marietta's Most Trusted Plumber