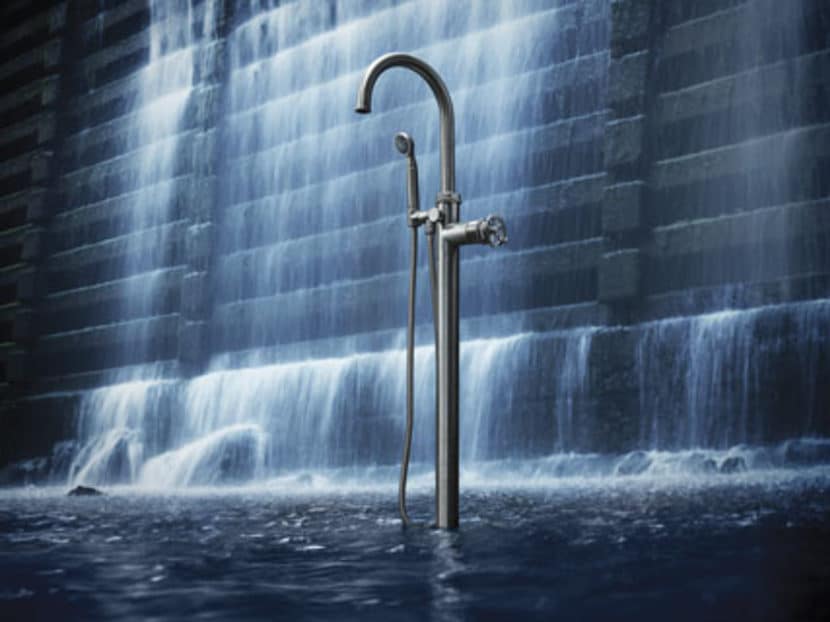 While everyone loves soaking in a hot bath, no one enjoys waiting for the tub to fill up. California Faucets has solved this problem with its new line of High Flow Rate Single Handle Tub Fillers, which can fill a large tub in record time without sacrificing the streamlined style coveted with this class of tub filler. The more streamlined tub fillers feature an impressive 10 GPM flow rate, and are available in a wide selection of handle, spout, and finish combinations to complement most any décor. With a flow rate previously only available in two-leg styles, the new series of single handle designs have a generous 9-inch center-to-center spout reach and are available in a wide range of looks including traditional, contemporary, transitional, and industrial.
California Faucets
Originally Posted - PHCPRos.com
Types of Freestanding Tubs
Lucky you! Freestanding tubs come with plenty of options. Choose from fiberglass, acrylic, cultured marble, solid surface material, cast iron, copper, stainless steel, and even cedar. Shapes and features vary as well, including:
Single- or double-ended tub: These have one or two sloped, rounded ends to rest against. The single-ended has the plumbing at the opposite end, with double-ended in the middle of the tub.
Slipper tub: The name comes from its shape, similar to a high-heeled shoe. Choices include a single slipper tub, where a raised interior at one end creates a comfortable seating area, or a double slipper tub, which is raised at both ends.
Pedestal tub: The tub rests on a base that matches or complements the tub.
Footed (clawfoot) tub: Four feet support this style, with the traditional clawfoot the most familiar. That name reflects the feet, which resemble a claw wrapped around a ball.\
Freestanding corner tub: Triangular with two straight sides that fit into a corner.
Freestanding tub with shower: "Most bathrooms with freestanding tubs have a separate shower," says Bruno. But you can add a shower feature by installing a circular shower rod to enclose the tub with curtains. That was often done with clawfoot tubs before alcove tubs became popular.
Freestanding soaking tub: This can be round or oval, and it's deep. A Japanese soaking tub may have a smaller footprint and usually an integrated seat. But what it might lack in length, it makes up for in-depth: It's deep enough to sit in with water up to your shoulders.
Freestanding jetted tub: Jets in the tub provide hydrotherapy.
1) Available space in your bathroom

The first thing to consider before installing a freestanding bathtub is the amount of available space in your bathroom. Are you re-organizing the existing space? Or are you looking to replace your old bathtub?

Freestanding tubs are not necessarily as large as they once were; various sizes are now available on the market. If, for example, you have limited space to work with, you can get a smaller model that measures up to 60" in width, which will fit nicely in the space left by an older podium or alcove bathtub. Make sure the interior space of your freestanding bathtub is large enough to suit your needs – consider your height, your weight, and your intended use for the bathtub.

2) Style of the bathtub

Over the years, freestanding bathtubs have become available in a variety of styles. Choose the style that works best with the look and feel of your bathroom. Even in a tight space, a freestanding bathtub elevates the look of any bathroom.

3) Design of freestanding tub

You have the choice between two types of models for your freestanding bath: a one-piece model or a two-piece model. One-piece models are, as the name indicates, made in only one piece. Two-piece models consist of a skirt and a tub that are inserted into one another to create the bathtub. The skirts are the more luxurious of the two pieces and can offer a variety of options in terms of shapes. Two-piece bathtubs are generally easier to install and can usually accommodate faucets that are mounted on the edge of the bathtub. Also, if you would like to include a massage system in your bathtub, a two-piece model would be a better choice because very few one-piece models can incorporate this feature.

4) Shape of the model

Do you prefer an oval or rectangular bathtub? The shape of your bathtub needs to match the style of your bathroom in order to create a harmonious atmosphere. Bathtub shapes can be transitional, traditional, or contemporary; the bathtubs below will provide you with a good idea of what each style has to offer.

5) The faucet

All that is left for you to consider is the type of faucet you would like to add to your bathtub. Whether it is on the edge of the bathtub, self-supporting (on the ground), or set into the wall, this is an important detail that should not be overlooked. The style of faucets you choose can really change the look of your bathtub and have a major impact on your bathing experience.

A large, expensive repair or bathroom remodeling project is easier to fit into your budget with the right financing. At My Georgia Plumber, we offer financing options through GreenSky and Turns with affordable payments.

Call us or contact us online for more information, an estimate for your remodel, or to schedule an appointment.

How To Know If You Have a Leak ? » « Helpful Kitchen Plumbing Tips