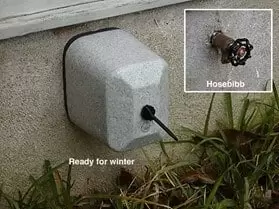 Winterizing Your Outdoor Faucets: Preventing Frozen Pipes
When it comes to plumbing maintenance, it's easy to overlook your outdoor faucets. However, during winter, these faucets become crucial to protect your plumbing system from freezing temperatures. Failure to properly insulate them can result in frozen and burst pipes.
Stop the Flow of Water
Shutting off the Outdoor Supply Valve: Prevent freezing by cutting off the water supply to your outdoor faucets.
Shutting off the Main Water Supply Valve: If you're leaving for an extended period, it's advisable to shut off the main water supply valve to the entire house.
Remove Accessories and Excess Water
Detaching Outdoor Faucet Accessories: Remove any attachments from the outdoor faucet to prevent damage and freezing.
Draining Hoses and Storing Them: Properly store hoses to prevent freezing and expansion that can lead to damage.
Opening the Faucet to Remove Excess Water: Allow the outdoor faucet to drain and dry completely to minimize the risk of freezing.
Install Insulation
Purchasing a Foam Insulation Cover: Invest in a foam insulation cover designed to fit over the outdoor faucet and exposed plumbing pipe.
Applying Foam Insulation Cover: Install the foam insulation cover to safeguard the outdoor faucet from harsh winter temperatures.
Taking the time to properly winterize your outdoor faucets can save you from the inconvenience and expense of frozen and burst pipes. By following these simple steps, you can ensure the longevity and functionality of your plumbing system during the winter months. However, if you do encounter frozen or burst pipes, it's crucial to seek professional pipe repair services. Contact Len The Plumber for reliable and efficient pipe repair assistance.