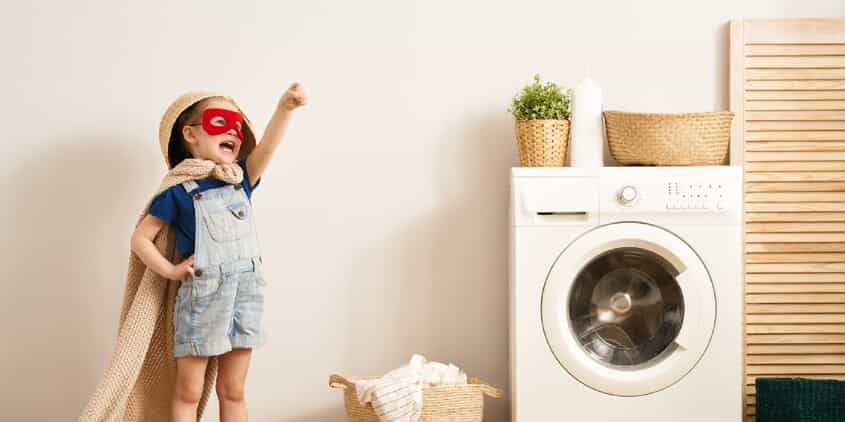 Laundry room plumbing problems can cause real havoc for busy families. Leaking washing machine hoses, slow draining washers, and clogged utility sinks can really mess up the daily routine.
My Georgia Plumber technicians can fix those pesky laundry room problems to get your life back on track quickly and efficiently. We can also add plumbing or gas to an existing laundry room to make the routine run more smoothly. Need a gas drop to convert to a new gas dryer? Would a utility sink or floor drain help keep things tidier? What about installing no burst wash machine lines to give you more peace of mind? A new steam dryer that needs to be installed? My Georgia Plumber can do it all!
Here are just a few of the top laundry room plumbing services we provide:
Flooding is one of the most common plumbing-related issues when it comes to washing machines – typically it means the drain lines are clogged with lint, buildup or another type of debris. My Georgia Plumber's expert technicians can clear drain lines and return washing machines to their original conditions.
---
Utility sink, pet station, and faucet repair and installation
Laundry rooms serve a variety of purposes in the modern-day home. From cleaning paintbrushes to rinsing off muddy shoes, doing laundry, or grooming pets this small but practical room has become part of everyday life for many of us. So, if it's clogged, leaking or in need of repair in any other way, My Georgia Plumber can get you back up and running quickly. We can also install any of these convenience items in your existing laundry area. Set up your consultation today!
---
Clearing and cleaning floor drains
Many laundry rooms are fitted with floor drains, which can limit damage in case of flooding. These drains should be regularly cleaned to ensure they stay clear and unblocked. My Georgia Plumber can professionally clean the floor drains in your home or unblock them in the event of a clog.
---
Sump Pump Repair and Replacement
If your laundry room is located below the ground floor, your wash machine may drain into a sump pump or sewage ejector pump. According to the PHCC, the typical lifespan of these devices is 3-5 years. If your pump goes out or is not functioning properly it may need service or to be replaced. My Georgia Plumber provides a variety of sump pump and sewage ejector pump options, call us today!
---
Frozen pipes, cracked and leaking pipes can cause water damage, mold, and health problems. Repairing broken pipes at the first sign of a leak will not only limit the amount of damage to your home but also ensure a healthy environment for your family.
can locate water line leaks and repair the offending pipe, getting you back up and running again.
---
Tips for maintaining your laundry room plumbing

It's important to remember that maintaining your laundry room plumbing properly can limit the number of repairs you'll need. Check your hoses and drains regularly. Also, use strainers to keep lint, hair, and debris out of your drain lines and hose.

If you're experiencing flooding, damaged fixtures, or any other issue in your home's laundry room, schedule a service with My Georgia Plumber as soon as possible. We'll send an experienced plumbing and drain cleaner your way who can help you diagnose the issue and fix the problem as quickly as possible. Your laundry room will be back up and running in no time!

If you're making any changes to your laundry plumbing we can help. Just call one of our friendly dispatchers at (770) 268-2331 or Schedule Online.

We have been providing plumbing solutions for over 30 years to Acworth, Alpharetta, Ball Ground, Brookhaven, Canton, Cumming, Kennesaw, Johns Creek, Marietta, Roswell, Sandy Springs, Smyrna, Suwanee, Woodstock, and surrounding areas.

Commercial Gas Line Installation and Repair Services » « Enviro Water Filtration System