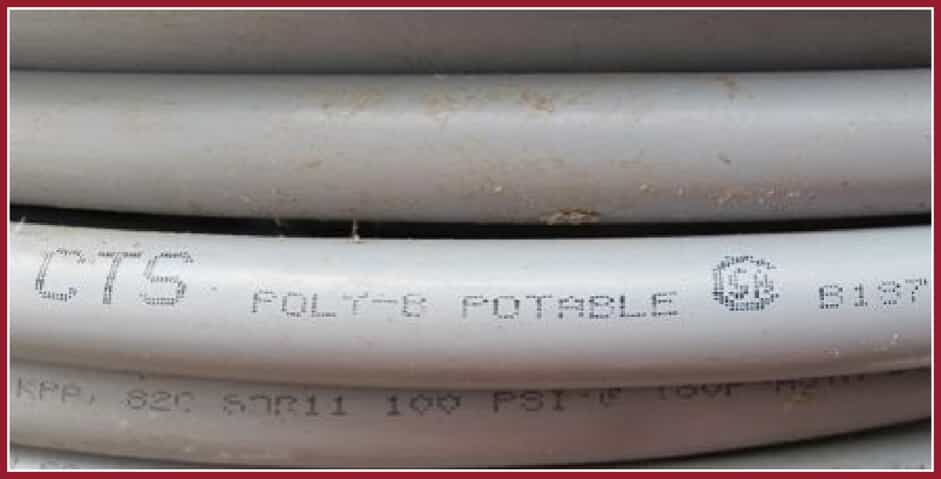 In the late 1970s, an inexpensive new type of plumbing pipe made of plastic polybutylene resin emerged as an extremely popular alternative to copper piping. Polybutylene pipes were not only very cheap to manufacture, but they were also easy to install. Many homes during the building boom were plumbed using polybutylene pipe. What all of those Georgia Plumbers didn't know was that they were installing what is now widely believed to be defective pipes.
Beginning in the early 1980s and continuing up through today, complaints have been pouring into consumer hotlines and manufacturers about polybutylene pipes leaking and causing property damage.
How Can I Tell If My Home Has Polybutylene Pipes?
Much of the polybutylene pipes (AKA poly pipe) used by plumbers in this area are mostly blue, grey, or black. The blue poly pipes were mainly used outside, buried under the yard, to bring water from the supply up to the house. Locate your water meter. See blue plastic pipe leading away from it? If so, your home most likely has some polybutylene piping.
Indoor plumbing typically utilized the grey poly pipe. A good place to check for this is near your home's water heater. If you discover your home has polybutylene pipes, we recommend having them replaced. Due to the high instances of failure, it is very likely that they will eventually leak and possibly burst.
Polybutylene is a blue or gray pipe with a manufacturer's defect that causes the pipe to split over time.
The following is a press release that appeared on www.pbpipe.com on June 11, 2008.
Homeowners with Leaking Polybutylene Pipes May Qualify for Free Plumbing Replacement
Systems Installed in Approximately Six Million Homes

(Plano, TX) Under the terms of a class action settlement, if a polybutylene pipe system has leaked, is leaking now or leaks in the future, homeowners may qualify for a free plumbing replacement if they file their claims by May 1, 2009.

Polybutylene plumbing was installed in an estimated six million homes between January 1, 1978, and July 31, 1995, the dates for installations covered by the settlement. More than 330,000 homeowners have had their plumbing systems replaced under the free program so far, but tens of thousands more may be eligible for the free plumbing replacement.

Established in 1995, the $1.1 billion polybutylene pipe Settlement Fund has spent over $976 million in homeowner relief. There is no cost for homeowners. The Consumer Plumbing Recovery Center (CPRC), established by the Court to administer the Fund, has received more than 2.1 million inquiries.

Polybutylene pipe, often referred to as plastic pipe, is somewhat flexible and usually gray, as opposed to PVC or CPVC products that are rigid and usually white or off-white. The pipes are joined by plastic or metal fittings held in place by aluminum or copper bands, about the diameter of a quarter. Polybutylene pipe might be located in an attic, crawl space, or water heater closet, but is often installed beneath insulation materials. It is not used for drains, waste or vent piping, yard sprinkler systems, irrigation systems, fire sprinkler systems, sewer lines, faucets, or fixtures.

Homeowners with polybutylene pipe can call the CPRC at 1-800-392-7591 or visit www.pbpipe.com for information about filing a claim and to access claim forms.

"Consumers have found the plumbing replacement process quite simple and easy," says Tim Taylor, general manager of the CPRC. "We are eager to inform them about the relief they are eligible to receive and to help them through the plumbing replacement process."

Because all claims must be filed by May 1, 2009, "homeowners with leaking polybutylene pipe should call the CPRC or access the website as soon as possible," Taylor says.

Homeowners who purchased their homes after September 12, 2005, have the right to exclude themselves from the Court-supervised replacement program and pursue their own claims. The home purchase date is earlier in certain counties in Alabama, Louisiana, Mississippi, and Texas that were affected by Hurricanes Katrina and Rita. There, homeowners can exclude themselves if their home was purchased after August 12, 2002. Exclusion request forms must be filed before September 1, 2008, and are available at www.pbpipe.com.

Along with other pertinent information, statistics detailing the number of claims filed and replumbs completed in individual states and counties are available on the "Press Kit" section of www.pbpipe.com.

Consumer Plumbing Recovery Center, P.O. Box 869006, Plano, TX 75086-9006, For Immediate Release Contact: Leigh Anna Thomure June 11, 2008 (202) 686-4111

*NOTE – ALL claims had to be filed by May 1, 2009. The class-action suit is closed and the manufacturer is no longer in business. As of the date of this blog, there is no additional financial assistance for the replacement of polybutylene pipe. This article is being left up for information purposes only.

If you are within our service area, which includes Acworth, Alpharetta, Ball Ground, Canton, Cumming, Kennesaw, Johns Creek, Marietta, Roswell, Sandy Springs, Smyrna, Suwanee, Woodstock, and surrounding areas,  My Georgia Plumber offers repair and replacement options for polybutylene pipe defects, leaks, and breaks.

You can use our easy online booking or call our office at 770-268-2331 .

Recirculating Pumps for Faster Hot Water and Water Conservation » « Thermal Expansion Tank Code