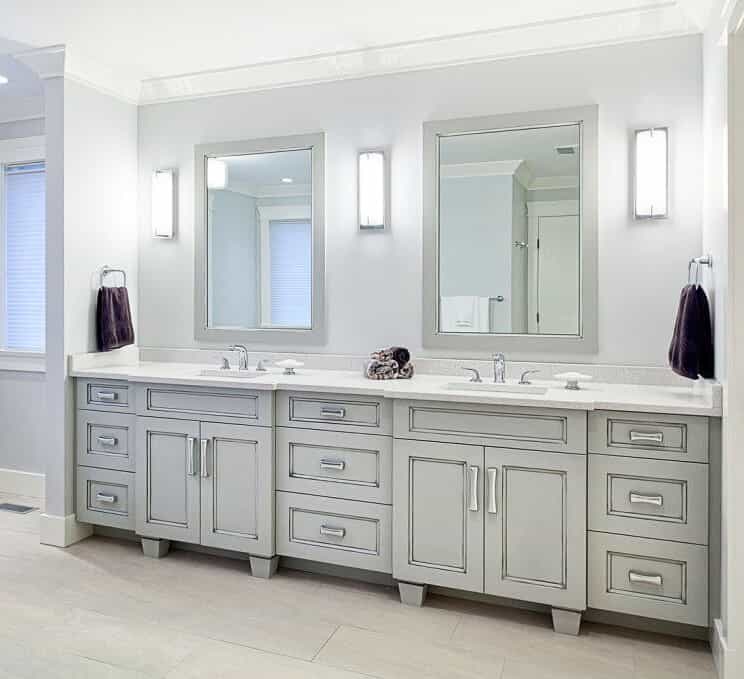 Congratulations on the purchase of your new vanity and installation through your local retailer. Your purchase includes the basic installation of your product.
Basic Installation Labor Includes:
Installation and delivery of new vanity within 20 miles from the store
Installation of one vanity cabinet up to 60″ including cabinet alteration for water supplies and drain line
Installation of one vanity countertop up to 61″ (pre-molded with sink(s).
Installation of sink and faucet connections
Removal and Haul Away of the old vanity
Installation of toe kick and scribe molding
Installation of cabinet hardware
Test to assure proper operation.
Final clean-up of the job site.
Materials Supplied By the Installer:
Fasteners
Plumbing parts outside the wall (supply lines, plumbers putty, shut-off valves, drain lines)
Shut off valves (must have paid for shut-off valve replacement)
Caulking
To ensure your installation goes smoothly, be sure you have purchased all the customer-required components of your installation. For the installation of garbage disposals you are responsible for providing the following parts:
Materials Sold By Home Improvement Stores To be Provided By Customer:
Vanity
Vanity Top
Faucet
Vanity Hardware
On occasion, we do run into instances where additional labor or material is required to complete the installation. These instances could be due to modifications necessary for the new product to be installed, new code requirements to bring your home up to date as required by local ordinances, or other pre-existing conditions you may not be aware of. In these instances, additional charges will apply.
There may also be times when your particular worksite circumstance is outside of the authorized scope of work for the retailer where you purchased your product.
Services Not Offered Through Retail Installation & Other Special Notation:
Services Not Offered: Structural modifications
Services Not Offered: Adding new water lines
Services Not Offered: Adding new drain lines
Services Not Offered: Adding new electrical service
Call our office at (770) 268-2331 to schedule your vanity installation or schedule online from your computer, phone, or tablet. We install vanities in Acworth, Alpharetta, Ball Ground, Canton, Cumming, Kennesaw, Johns Creek, Marietta, Roswell, Sandy Springs, Smyrna, Suwanee, Woodstock, and surrounding areas.

Sink Installation in Your Kitchen & Bathroom » « Signs You May Need a New Water Heater in Alpharetta, GA