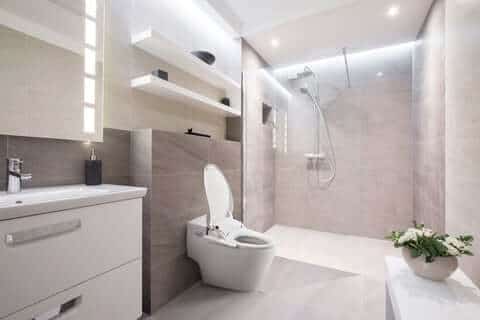 Jones Stephens Non-Electric Bidet Toilet Seat
Introducing the Jones Stephens Non-Electric Bidet Toilet Seat
Enhance Your Personal Freshness and Hygiene
When it comes to personal cleanliness and hygiene, the Jones Stephens Non-Electric Bidet Toilet Seat is the ultimate solution. Bid farewell to the hassle of dealing with electricity, batteries, and complicated installations. This innovative toilet seat offers a seamless transition – simply replace your existing seat, and you're ready to experience the benefits. Crafted from durable plastic and designed with an elongated shape, it guarantees comfort and convenience.
Take Control with Ease
The Jones Stephens Bidet Toilet Seat puts control at your fingertips. With a convenient side lever, you can adjust the water volume and pressure to your preference. Additionally, the seat offers two wash styles, allowing you to customize your cleansing experience. Whether you desire a gentle and soothing cleanse or a more invigorating spray, this bidet seat has got you covered. What's more, the automatic self-cleaning wand ensures optimal hygiene with every use.
Convenience and Maintenance Made Simple
Jones Stephens has carefully considered every detail to enhance your bathroom experience. The Bidet Toilet Seat comes with corrosion-resistant mounting hardware, ensuring its longevity and durability. Say goodbye to noisy lid slams thanks to the Slow-Close feature, which provides a quiet and seamless operation. Cleaning is a breeze with the QuicKlean hinges, allowing for quick and effortless lid release.
Bidets: Beyond a Passing Trend
If you've ever wondered about the benefits of bidets, now is the time to explore their advantages. Bidets offer a simple and refreshing alternative to traditional toilet paper, promoting cleanliness and improved well-being. By reducing your reliance on toilet paper, you not only save money but also contribute to a greener planet. Bidets minimize clogging issues and can help you avoid costly plumber visits resulting from excessive toilet paper usage.
Discover Your Ideal Bidet Match
When it comes to bidets, there's a wide range of options available to suit your preferences and needs:
Bidet Toilet Seats: Indulge in luxury with electric-powered seats that replace your current one. Enjoy features such as a heated seat, remote control, and automatic deodorizer for a truly elevated experience.
Bidet Attachments: Embrace minimalism and efficiency with water-powered attachments that easily install under your existing toilet seat. These attachments provide a thorough cleaning experience without the need for electricity, making them perfect for toilets without nearby outlets.
Hand-Held Bidet Sprayers: Gain flexibility and convenience with wall-mounted or toilet tank-mounted sprayers. The CleanSpa Luxury, a popular choice, puts the power of water in your hands, allowing for a more personalized cleansing experience.
Travel Bidets: Stay fresh and clean while on the go with portable bidets like the Go-Spa Essential. Designed for sanitary washing anywhere, these bidets are ideal for camping, traveling, and those seeking a waste-free alternative.
At My Georgia Plumber, we're committed to meeting your plumbing needs. Contact us or conveniently book your appointment online, and let us guide you in finding your perfect bidet match. Elevate your bathroom experience and embrace a whole new level of freshness with a bidet.