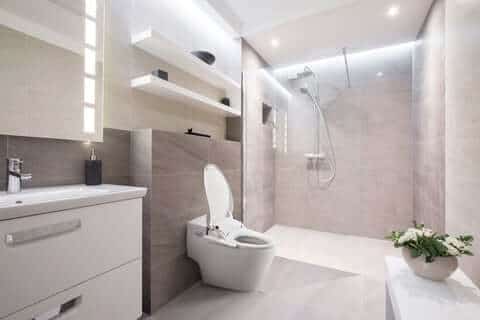 Jones Stephens Non-Electric Bidet Toilet Seat
Jones Stephens has introduced its new Non-Electric Bidet Toilet Seat, offering a quick solution to personal freshness and hygiene. The toilet seat requires no electricity or batteries and no special tools for installation; simply replace an existing toilet seat with the Jones Stephens Non-Electric Bidet Toilet Seat. The elongated, plastic Bidet Toilet Seat is designed with a side lever that controls water volume and pressure; the lever also provides two wash styles that allow for personal comfort and choice. Additional features include an automatic self-cleaning wand, corrosion-resistant mounting hardware, a Slow-Close feature to prevent the lid from slamming, and QuicKlean hinges for the lid's quick release and ease of cleaning.
Jones Stephens
Originally Posted - PHCPRos.com
Everybody poops. But not everybody has a successful wipe. If you feel like your bathroom experience mirrors "The NeverEnding Story," then it may be time to forgo toilet paper, like some European, Asian, and South American countries do. We don't know what you've heard about bidets. But they're really simple to use and to install. They are quite comfortable and refreshing and ensure clean, healthy well-being. Plus, they let you cut back on toilet paper. And since the toilet paper we're flushing down the toilet adds up to around 27,000 trees a day, wiping less is a seriously good idea.
Toilet paper may have hidden costs that using a bidet might help you avoid. Excessive flushing of toilet paper—especially the thick kind—could cause pipes and septic systems to clog, and trigger an expensive visit from the plumber. The bottom line: Washing with a bidet means buying fewer rolls of toilet paper. You'll save money, and with every wash, you are helping care for our planet—now that's something to feel good about.
Which Bidet Is Best For You? 
First, there are bidet toilet seats, which are often powered by electricity. These replace your existing seat, and generally have luxurious comforts, like a heated seat, a remote control, or an automatic deodorizer to remove unwanted scents from your bathroom.

A bidet attachment, on the other hand, takes a more minimalist approach to bathroom hygiene. They clean just as well as other kinds of bidets, though they usually carry fewer features. They install directly under your toilet seat—instead of replacing your original—and they're usually water-powered, so no need for electricity. That fact makes bidet attachments, like the Jones Stephens Non-Electric Bidet Toilet Seat, a great option for anyone whose toilet lacks a nearby electrical outlet.

There are also hand-held bidet sprayers (sometimes known as a Shattaf sprayer) like the CleanSpa Luxury, which mounts either to the wall or the side of your toilet tank.

Finally, since you can't always count on being close to home when you need to go, there are travel bidets or as they're sometimes called portable bidets. These are specifically designed to provide a full, sanitary bidet wash, on the go—just fill the bottle with water, invert, and squeeze. The Go-Spa Essential Travel Bidet comes with a discreet carrying bag and a nozzle that can be stored inside the bottle for compact, easy packing. Campers, hikers, and leave-no-trace backpackers love travel bidets as a clean, waste-free alternative to using toilet paper in the great outdoors. But travel bidets are useful in other scenarios as well, whether you're staying in a hotel, an RV, or using a public restroom.

When it comes to benefits, bidets are a no-brainer. They're cleaner, gentler, and more eco-friendly than toilet paper. And wiping less means you'll be saving money on your shopping bill, as well.

So go ahead and give one a try. It may seem foreign at first, but we promise that once you get used to it, you'll wonder how you ever went without one before.

My Georgia Plumber provides plumbing and gas service in the North Metro Atlanta area. Cities include, but are not limited to, Acworth, Alpharetta, Ball Ground, Canton, Cumming, Kennesaw, Johns Creek, Marietta, Roswell, Sandy Springs, Smyrna, Suwanee, Woodstock, and surrounding areas.

Call one of our friendly dispatchers at 770-268-2331 or use our easy online booking by clicking HERE.

2021 – 2022 Plumbing & HVAC Industry Price Increases » « How To Choose Your Freestanding Tub?