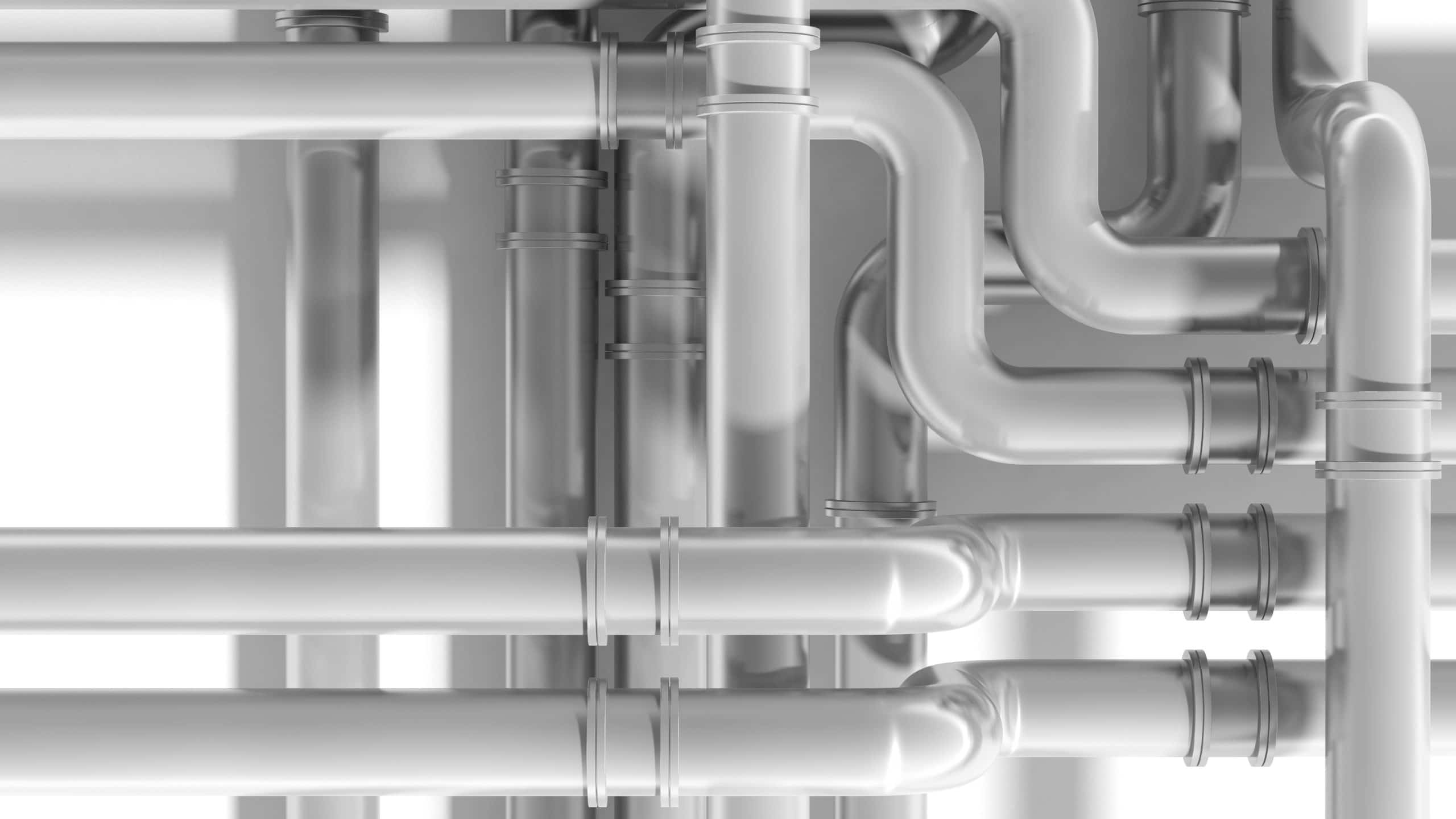 Recognizing what type of plumbing pipes you have in your home will greatly assist in diagnosing and repairing plumbing problems.
The most common type of piping used for plumbing today is CPVC, PEX, copper, and PVC. Older homes in our area may have a variety of other types of water line pipes. Homes built before 1960 may have galvanized steel or cast iron drain pipe systems.
Below are the most common types of piping we see used in our area.
Types of Pipes Used in Plumbing
DWV (Drain/Waste/Venting) Piping: These pipe types are typically used in the drain systems of your home. They either connect to the city sewer system or your septic tank and carry waste from the home.
Cast Iron: Most commonly used before 1960 for the vertical drain, vent stacks, and sometimes the horizontal drain lines. Cast iron is durable but can rust over time. Call a professional plumber to replace rusted sections with plastic (PVC or ABS) and the correct transition fittings.
Plastic: Plastic pipe comes as either ABS (acrylonitrile-butadiene-styrene), usually black in color, or PVC (polyvinyl-chloride), usually white in color. Most homes since mid-1970 have plastic pipes and fittings because it's inexpensive and easy to use.
ABS: This black pipe was the first plastic pipe to be used in residential plumbing. Today, many areas don't allow ABS in new construction because joints can come loose.
PVC: This white or cream-colored pipe is the most commonly used pipe for drain lines. It's strong, untouchable by chemicals, and extremely durable. The rating and diameter are stamped right on the pipe.

Schedule 40 PVC is strong enough for residential drain lines but check with your plumbing inspector first.
CPVC (chlorinated polyvinyl chloride) pipe has the strength of PVC but is heat-resistant, which makes it acceptable in many regions for use on interior supply lines.
Schedule 80 PVC is sometimes used for cold-water supply lines, but it isn't allowed in some regions because it isn't suitable for hot water.

PEX: PEX (cross-linked polyethylene) is the newest pipe for residential use. Approved in many regions of the country, PEX is easy to install because it cuts easily, is flexible, and uses compression fittings. However, more permanent connections require a special crimping tool. PEX is three to four times more expensive than copper or plastic.
Steel: Galvanized steel pipe is common in older homes. Galvanized pipe is strong, but lasts only about 50 years. Before repairing, consider replacing instead.
Copper: Copper pipe resists corrosion, so it's a commonly used pipe in water supply lines. It costs more than plastic. There are two common types of copper pipe:

Rigid copper, which comes in three thicknesses. Type M is the thinnest but is strong enough for most homes. Types L and Type K are thicker and used in outdoor and drain applications. To cut rigid copper, you'll need a wheel cutter, tube cutter, or a hacksaw. Pipes are usually connected with soldered (sweat) fittings and compression fittings can connect the pipe to shut-off valves.
Flexible copper, which is often used for dishwashers, refrigerator ice makers, and other appliances that need a water supply. It's easy to bend, but if it kinks, you must cut the piece off and replace it. Sections of flexible copper pipe are joined using either soldered or compression fittings.
Each type of piping requires a different type of repair. Although some homeowners can make their own plumbing repairs, it is always best to leave live water line repairs to the professionals. The plumbing pros at My Georgia Plumber are trained for each specific type of repair regardless of type, size, or location.

Call My Georgia Plumber at (770) 268-2331 or simply book online if you live in Acworth, Alpharetta, Ball Ground, Canton, Cumming, Kennesaw, Johns Creek, Marietta, Roswell, Sandy Springs, Smyrna, Suwanee, Woodstock, or any of the surrounding areas.

How Do Tankless Water Heaters Work? » « Hybrid Water Heater Installation, Repair and Replacement