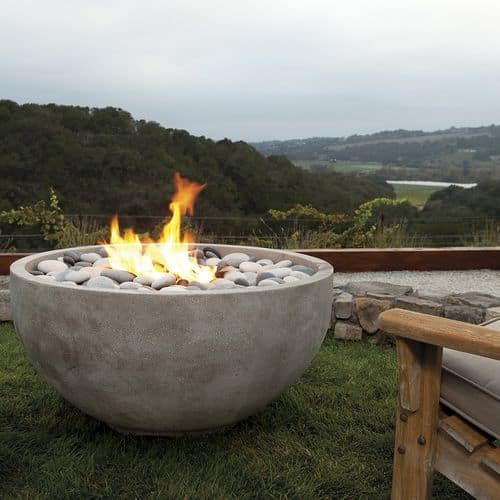 Many homeowners get so caught up in their daily routines that they forget to take some time to enjoy life and their home. It's important to remember you need to take some time to relax in your home, after all, you have worked hard on your home, enjoy it a little more. One way to enhance your backyard is by installing a natural gas fire pit. Backyard fire pits can give you more than just a place to relax.
Extend Living Space of Your Home
By installing a natural gas fire pit in your backyard, you can easily extend the living space of your home. If you are one to host a lot of parties or have a lot of barbecues in the summer, a fire pit with natural gas will afford you the perfect place to entertain. Your guests will love the fact that they have more space to socialize and, you may even find that many of them enjoy toasting marshmallows over the fire pit just as much as you and your family do in the evening.
Increase the Value of Your Home
If you currently have your home listed or you have determined that you will be selling in the near future, installing a natural gas fire pit in your backyard may be a wise investment. Buyers today are looking for more than just a house and a fire pit is a good way to add value. They want a home and a well-designed landscape is going to show them that your house could be their home. Many sellers often find that by investing in their landscape, they can increase the value of their home by as much as fifteen percent or more. The key is to choose one that fits into your current landscape. You do not want to simply install one anywhere in your backyard or it will stick out like a sore thumb. A careful and well-thought-out design is important for gaining a healthy return.
Enjoy Outdoors All Year Round
By installing a natural gas fire pit in your backyard, you will also extend the time that you can enjoy your outdoors. In fact, many people often find that they spend more time outside, even in the colder months. The fire pit will give off enough heat that you and your family can stay warm while you gather around it. You may even find that you and your family enjoy having a winter barbecue.
There are many different options in the design of a natural gas fire pit. A professional will be able to determine the right size and location for your fire pit and give you options in its design. You can easily install one that creates a focal point in your landscape design. Not only will you have a beautiful setting to entertain in, but you will have a fully functional fire pit that will provide you and your family with many years of comfort.
Running Gas Lines
Depending on your location, there may be requirements to obtain a permit in order to run or extend a gas line.  This is to ensure safety standards are being met and, if the house is ever sold, the new owner will be aware of the modifications that have been made.

There are several options for running gas lines. You could run them along the perimeter of the basement or dig a trench outdoors. What option you choose will depend on the restrictions of your current location and the setup of your home.

Another area that often needs attention is when figuring out what size of gas lines to use for your fire pit. While making this decision there are many There are a lot of variables involved in this decision, such as the size of the pit, length of the lines, gas pressure, and the type of gas that will be used. You need to also consider other appliances around your home that are operating off of the same gas supply.

Most fire pits have recommendations for incoming gas pressure and flow. Other decisions such as the length and size of the lines will depend on where your pit is located.

Our work is always 100% compliant with the highest professional and industry standards. As a result, all of your appliances are guaranteed to have the efficient gas service they need, providing your home with comfort, warmth, and efficiency for a long time to come.

Call 770-268-2331 for the most trusted gas line installation service in the nation!

Watch Out, These Are My Signs – Water Heater » « Expectations for An Outdoor Kitchen