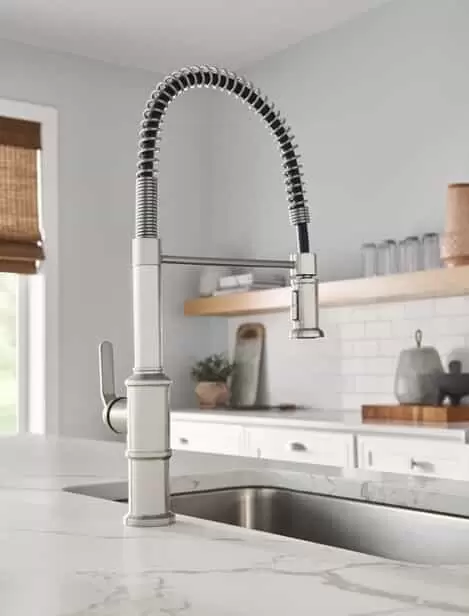 Discover the Stunning Kinzie Kitchen Collection by Gerber Plumbing Fixtures
Gerber Plumbing Fixtures has unveiled its latest kitchen collection, the Kinzie. Combining vintage-inspired plumbing forms with a touch of modern elegance, this collection offers a rustic yet polished vibe. With a range of product options, including faucets for various purposes and finishes to choose from, the Kinzie collection provides a comprehensive solution to elevate your kitchen's style and functionality. In this blog, we'll explore the features and options of the Kinzie kitchen collection and how My Georgia Plumber can assist you in acquiring these beautiful Gerber products.
The Allure of the Kinzie Kitchen Collection
Drawing inspiration from vintage-era plumbing forms while incorporating modern design elements.
The rustic yet polished vibe that adds character and style to your kitchen.
Comprehensive product options, including pre-rinse, pull-down, and pull-down prep faucets.
The convenience of a wall-mounted pot filler with an articulating arm for extended reach and easy storage.
Key features such as toggle buttons for spray and stream functions, 360-degree swivel spouts, and durable ceramic disc valves.
Superior Functionality and Durability
The proprietary SnapBack retraction system ensures smooth and consistent spray head retraction.
The GripLock weight allows for customizable hose retraction length for specific installation needs.
Reliable performance with drip-free operation and smooth water flow.
Quality construction and materials for long-lasting use in the kitchen.
Finishes to Match Your Style
Available in a range of finishes: chrome, brushed bronze, satin black, and stainless steel.
Choose the finish that complements your kitchen decor and personal aesthetic.
My Georgia Plumber: Your Partner in Acquiring Gerber Products
My Georgia Plumber is a trusted plumbing service provider in the Acworth, Alpharetta, Ball Ground, Canton, Cumming, and surrounding areas.
Contact My Georgia Plumber to purchase the stunning Gerber Kinzie kitchen collection.
Conveniently schedule an appointment by phone or using the easy online booking system.
Elevate your kitchen's style and functionality with the Gerber Kinzie kitchen collection. With its vintage-inspired design, modern elements, and superior functionality, these plumbing fixtures are a perfect addition to any kitchen space. From pre-rinse to pull-down faucets and pot fillers, the Kinzie collection offers versatility and durability. Choose from a variety of finishes to match your personal style. Trust My Georgia Plumber to assist you in acquiring these beautiful Gerber products. Call today or use the convenient online booking system to schedule your appointment and bring the Kinzie kitchen collection to your home.
Check Out Our: