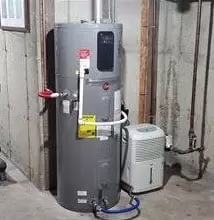 The Future of Water Heating: Exploring the Benefits of Hybrid Water Heaters
When it comes to energy-efficient water heating solutions, hybrid water heaters are making waves in the market. By combining the technology of a traditional electric tanked water heater with a heat pump, these innovative appliances offer significant energy savings. In this blog post, we'll delve into the benefits of hybrid water heaters, from their efficiency to environmental impact.
Fuel: Electric
Hybrid water heaters operate on electricity, drawing power to heat and store water in the tank. What sets them apart is the integration of a heat pump, which extracts heat from the surrounding air and transfers it to the water, resulting in reduced fuel consumption. As long as the ambient temperature remains at or above freezing, the heat pump efficiently heats the water, making it an ideal choice for most climates.
Capacity and Efficiency
Hybrid water heaters offer ample capacity, similar to traditional tanked water heaters. A typical 50-gallon hybrid water heater has a First Hour Rating (FHR) of 63 gallons, making it suitable for the needs of a 4-bedroom/3-bathroom house. Moreover, the operating efficiency of a hybrid water heater is notably higher than that of a traditional tanked electric water heater, with an EF rating of 2.35 when operating in hybrid mode. The heat pump's ability to extract heat from the air and transfer it to the water contributes to this impressive efficiency.
Cost and Utility Savings
While hybrid water heaters may have a higher upfront cost compared to traditional and tankless water heaters, they can result in significant long-term utility savings. According to manufacturers, these water heaters can save the average homeowner over $3,000 on their utility bills throughout the water heater's lifetime. Additionally, it's worth exploring potential cost-saving opportunities, such as manufacturer's rebates, utility company rebates, and Government Tax Credits Programs, which can help offset the initial investment.
Safety and Environmental Benefits
In terms of safety, hybrid water heaters pose similar risks to traditional water heaters, including the potential for tank leaks. However, their environmental benefits are noteworthy. By utilizing a heat pump to extract heat from the air, hybrid water heaters consume significantly less fuel, resulting in a 62% reduction in CO2 emissions compared to traditional tanked water heaters. While the production of hybrid water heaters does require raw materials and energy, their long-term environmental impact is considerably reduced.
Expert Installation and Service
When considering a hybrid water heater, it's essential to work with professionals experienced in both plumbing and HVAC systems. Since hybrid water heaters combine elements of both, you may need the expertise of both a plumber and an HVAC technician for installation and service.
If you have questions or need assistance with hybrid water heaters, don't hesitate to contact our knowledgeable team. Give us a call at 770-268-2331 or book an appointment with one of our experts online.
We proudly serve residents in Acworth, Alpharetta, Ball Ground, Canton, Cumming, Kennesaw, Johns Creek, Marietta, Roswell, Sandy Springs, Smyrna, Suwanee, Woodstock, and surrounding areas. Trust us for all your hybrid water heater installation, repair, and replacement needs.
Check Out Our: