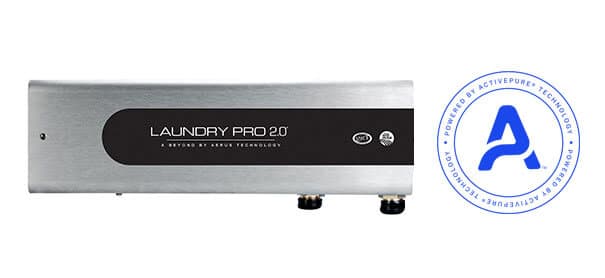 Laundry Pro 2.0 by Aerus featuring ActivePure® Technology
Laundry Pro 2.0 combines the power of our revolutionary, exclusive ActivePure Technology with the cleaning action of water with hydrogen & oxygen-based oxidizers to lift dirt and grime away from the fibers of the fabric and prevent the growth of odor-causing bacteria. Laundry Pro 2.0 is an amazingly effective cold water laundry system designed for residential use.
No need for detergent – ActivePure® Technology works into clothing to lift away dirt and odors – Makes clothes softer – Build-up on towels, linens, and your clothes can weigh them down; over time, Laundry Pro 2.0 lifts old detergents out of fibers, restoring their natural softness
No maintenance – Laundry Pro 2.0 requires no cleaning or maintenance to operate at peak performance
Better for sensitive skin – Laundry Pro 2.0 also helps eliminate the itching and redness caused by allergies due to detergents embedded in clothing
Whiter whites, brighter colors – Laundry Pro 2.0 keeps clothes looking their best with the cleansing power of water with hydrogen & oxygen-based oxidizers
Earth-friendly – Cold water only and no detergent bottles to throw away make Laundry Pro 2.0 a better choice for cleaning clothes while protecting the planet
Easy to install – Laundry Pro 2.0 connects to your existing washing machine using standard hoses; no modifications or additional plumbing is required
Combining all of these factors, the average cost of a load of laundry is $1.27. At this cost, if you do one load per week, doing laundry costs $66.04 per year. If you do four loads per week, doing laundry costs $264.16 per year. If you average eight loads per week, doing laundry costs $528.32 per year. That amount increases when you include how much money is spent on fabric softeners, bleach, or any other Laundry additives
LAUNDRY PRO SYSTEMS AND SERVICES IN NORTH GEORGIA
Nothing is more irritating than a stubborn stain when it comes to doing laundry. Most homeowners use detergent or bleach to clean the dirt and grime out of their clothes, but there are other ways to deal with such things. Using detergent will remove a lot of stains, sure, but it can also cause problems for your health and comfort. If you want to remove stains without the negative side effects, consider installing a Laundry Pro System. If you need Laundry Pro services of any kind, call today to schedule an appointment with one of our plumbers.
HOW IT WORKS
The Laundry Pro system is a device that attaches to your washing machine using standard hoses. The system also has a power supply separate from the washing machine. While the washing machine is operating, the system uses ActivePure Technology to "activate" the oxygen in the water supply. This helps to lift dirt and grime off of your clothes, without requiring detergent. Laundry Pro only requires cold water and a power supply, so it's more energy efficient than most washing machines. The system also monitors its operation and reflects its condition by using an indicator light. If the light is blue, all is well. If not, the system needs attention. Washing machines have 3 hoses: one for hot water, one for cold water, and one is a drain hose. This means there are 3 hoses that have the potential to burst or leak. Out of these, the drain hose is the least dangerous because it only has water in it when the washing machine is draining. The water lines are under the full pressure of your potable water system 24/7. If you have water pressure in your house over 80 psi, this greatly adds to the risk. The higher the static pressure, the more intense the water hammer effect is. At My Georgia Plumber, we are dedicated to helping you with all your plumbing maintenance needs. In the unfortunate event that you end up with a burst washing machine hose, or you simply want our trained experts to inspect and replace your hoses for you, be sure to give us a call.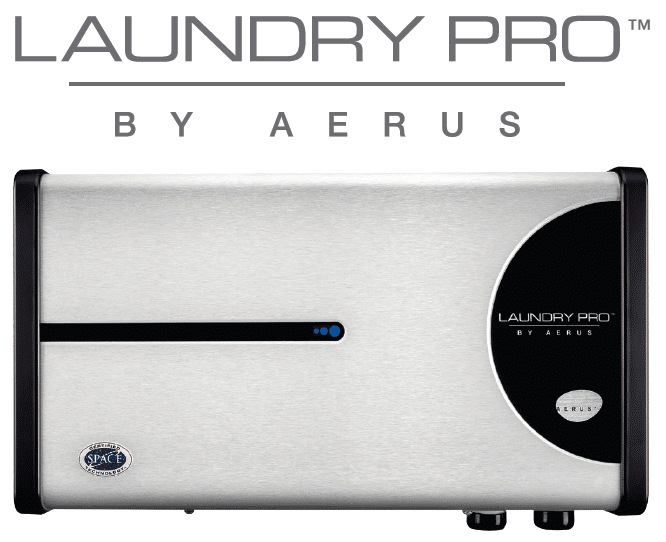 ADVANTAGES OF LAUNDRY PRO
Loading up your washing machine with all kinds of detergent has a number of side effects, as we've said. If you have allergies, it can exacerbate them. Residue from the detergent can cause skin irritation and rashes. This can also serve as a breeding ground for bacteria since the clothing never gets fully clean. Add to that that you have to spend quite a bit of money on both hot water and detergent over the course of the year, compared to using the Laundry Pro.
With the Laundry Pro system, you can forego the detergent and the hot water when washing your clothes. When you want to do a load of laundry, just set the washing machine for cold water and start it. The Laundry Pro system will clean your clothes better than if you had used all of that extra stuff, and it will do it without causing further issues. The quality of the water leaving your home will rise since you won't be dumping toxic bleach and detergent into your sewer system anymore. You won't have to worry about providing an environment for bacteria to grow, or about skin rashes if you're sensitive to certain kinds of detergent.
Laundry Pro' ensures that you aren't absorbing anything from the fabrics you touch, which helps you to avoid the allergic reactions that can be caused by detergents. Based on processes used for over a decade in hospitals, hotels, and Laundromats, Laundry Pro infuses cold water with oxygen, peroxides, and other gases to bubble and lift dirt and grime from cloth fibers, leaving clothes brighter and cleaner.
CHOOSE US FOR YOUR LAUNDRY PRO SERVICES
My Georgia Plumber is committed to providing the healthiest, and most energy-efficient, solutions for your needs. That's why we offer a full range of services throughout North Georgia. It may seem overly simple, but you'll be amazed at how much of a difference using a laundry pro system will make. If you'd like to know more or would like to schedule an installation appointment, call today to speak to one of our experts. We'll make sure that all of your Laundry Pro needs are met.

Who Knew Life Could Be This Easy? » « Are You Missing Something That You Didn't Even Know You Needed ?