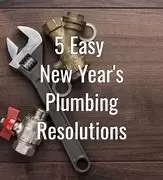 Essential New Year's Plumbing Maintenance Tips for a Smooth-Running Home
As we step into the new year, it's the perfect time to give your plumbing system some well-deserved attention. By implementing these essential maintenance tips, you can keep your water heater, faucets, drains, garbage disposal, and fixtures in top-notch condition while saving on energy bills. Let's dive in!
Water Heater Maintenance: Keep it Happy, Reduce Costs
Your water heater plays a crucial role in your plumbing system, accounting for 14-20% of your monthly energy bill. Regular maintenance is key to ensure its efficiency and longevity. Consider flushing the tank annually to remove sediment buildup and inspect the pressure relief valve for proper functionality. This routine plumbing maintenance will keep your water heater running smoothly and help lower operating costs.
Dripping/Leaky Faucet: Banish the Irritating Drip
Dealing with a leaking faucet is a common plumbing issue. Most often, a faulty washer, gasket, or valve inside the handle causes the annoying drip. The good news is that you can fix this water leak by replacing the dripping faucet disc or cartridge. By addressing the issue promptly, you'll save water and prevent further damage to your plumbing fixtures.
Clogged Drain Prevention: Wave Goodbye to Plumbing Mishaps
Clogged drains can disrupt your daily routine, but with proper preventative maintenance, you can avoid this inconvenience. Keep your shower, bathtub, and sink drains clear by refraining from pouring cooking grease down the kitchen sink. For bathroom drains, make it a habit to avoid brushing hair or shaving over the sink. These simple plumbing maintenance tips will help keep your drains flowing smoothly.
Garbage Disposal Tips: Know Its Limits
Garbage disposals are reliable helpers in the kitchen, but they do have their limitations. Always remember to run water while using the disposal to ensure proper functioning and prevent clogs. Additionally, avoid sending wet coffee grounds down the disposal and refrain from grinding potato peelings, celery, cabbage, eggshells, bones, or chicken skin. By following these guidelines, you'll extend the lifespan of your garbage disposal and avoid unnecessary plumbing issues.
Upgrading Plumbing Fixtures: Enhance Your Space, Save Money
Looking for a way to freshen up your home while also reducing water bills? Consider replacing outdated plumbing fixtures, such as a new kitchen sink. Upgrading fixtures not only adds a contemporary touch to your space but can also improve water efficiency. Look for fixtures with a WaterSense label for optimal water conservation without compromising performance.
Start the New Year with a Well-Maintained Plumbing System
By following these intriguing plumbing maintenance tips, you can ensure a smooth-running home throughout the year. From keeping your water heater happy and your faucets leak-free to preventing clogged drains and optimizing your garbage disposal, these practices will save you from unnecessary plumbing woes. Embrace the new year with a well-maintained plumbing system, and enjoy a hassle-free home!