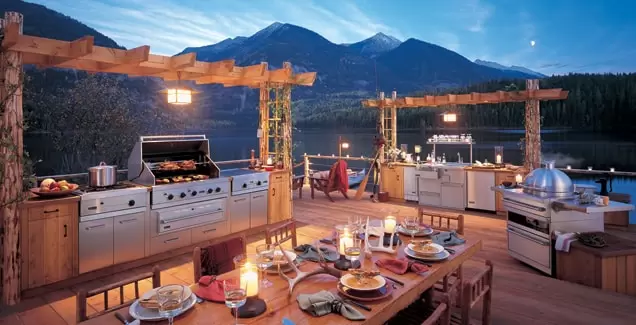 The Rise of Outdoor Kitchens: Plumbing Considerations and Ideas
Outdoor kitchens have gained immense popularity as they offer a relaxing and enjoyable way to make the most of your backyard. Not only do they enhance your outdoor living space, but they also increase the value of your home. While most people desire a gas grill on their deck or patio, an outdoor kitchen creates a complete culinary experience in an outdoor setting.
When it comes to plumbing requirements for an outdoor kitchen, one common question we receive is, "What plumbing do I need for an outdoor kitchen?" Essentially, an outdoor kitchen is like any indoor kitchen installed within an outdoor living space, so your plumbing needs will be similar to those of your indoor kitchen.
Innovative Outdoor Kitchen Ideas
Over the years, outdoor kitchens have become more sophisticated, offering a wide range of features for cooking and entertaining year-round. During our visits to homes in North Georgia to assist with plumbing, we have been amazed by the impressive equipment owners have incorporated into their outdoor kitchens. What used to be a simple BBQ and beer fridge setup has transformed into elaborate outdoor spaces featuring:
Fitted storage cupboards
Granite countertops
Serving benches
Bar fridge
Sink and prep sink
Dishwasher
Wine cooler
Beer on tap
Ice machine
Ovens and/or stovetops
Gas heating
Designer lighting
Ceiling fans
Important Considerations for Outdoor Kitchen Plumbing
Sink and Faucet Selection: Opt for a stainless steel sink, as it offers durability and hygiene. For the faucet, choose one with a physical vapor deposition (PVD) finish. The best option is a solid brass faucet with a PVD finish and ceramic disk valves.
Adding an outdoor sink next to the grill facilitates food preparation and reduces trips inside the house. Additionally, a gas grill built into a tiled countertop provides convenient cooking and prep space for the chef.
Water Temperature: Consider whether you truly need both hot and cold water in your outdoor kitchen sink. While hot water is a luxury, cold water plumbing is typically sufficient. However, if you desire hot water, an on-demand water heater is a recommended option. Remember to choose cabinets and countertops that can withstand various weather conditions. Providing an awning or some form of shelter from rain and sun can also protect your outdoor kitchen.
Preparing for Freezing Temperatures: As temperatures drop, it is crucial to winterize your outdoor kitchen plumbing to prevent frozen pipes. You can shut off the water using a valve inside your home and then drain the pipes to avoid freezing, expansion, and potential pipe bursts. The plumber you work with should guide you through the exact winterization steps and address any other queries you may have. To prevent freezing, the plumber will install pipes and plumbing that can be drained in the fall. The drain line can be directed to a simple dry well without the need for venting. This approach is suitable for handling the gray water produced by a prep sink.
When you're ready to create a custom outdoor kitchen and transform your backyard, give us a call at 770-268-2331 . If you're still in the early stages and have questions, feel free to contact us online. You can also read testimonials from our past customers to learn about their experiences working with us.
At My Georgia Plumber, we can easily install water lines for your outdoor kitchen sink. Additionally, our professional plumbers can handle gas line installations, allowing your grill to run directly from the natural gas lines connected to your home. This way, you can enjoy grilling without worrying about propane tank refills.