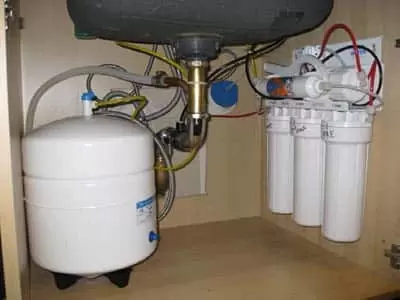 You're sick of pouring all of your money into bottled water, or worse, dealing with water contamination problems at home every day. You're ready to buy your very own premium-quality water filtration system to ease the constant stress and frustration. After scouring through countless local and online marketplaces, you finally find "The One." But in an instant, the joy of possibly owning your first water filter or softener turns to worry after an important question comes to mind: "Who is going to install the system?"
Usually, there are two options for installing a water filtration system: do it yourself (DIY) or hire a professional plumber. While installing a water filtering system can be an excellent way to tap into your DIY skills, some units are a little too complex to install without professional help. On top of that, working on a plumbing system can be challenging unless:
You fully understand how the plumbing system works
You have some experience cutting into pipes, connecting them, and doing other basic plumbing tasks
Installing a water treatment system, such as a water filter or a water softener, often requires cutting into the home's plumbing system. Also, some filtering systems (our well system or salt based softeners) require a drain that typically ties into the home drainage system. Without the help of a reliable and well-trained plumber, you risk creating a bunch of issues, like cross-contamination, leaks, water damage, not having access to running water for long periods, among other things.
To help you avoid these unwanted situations, we'll provide everything you need to find a licensed, experienced plumber with the right tools and expertise to do the job correctly. That way, you can be sure to have your filtering system up and running in no time, and have the peace of mind that it will work as expected.
Why Hire a Professional Plumber?
These days, many homeowners rely heavily on their DIY skills. Rather than seeking out professional help, they opt to do household tasks themselves, including plumbing work. The truth is, many homeowners don't have the right skills, tools, or experience to handle certain plumbing situations, like installing a water filtration system.
These situations can be dangerous and may invite physical injury or damage to pipes and plumbing fixtures into your home. Therefore, it's best to hire someone who has a good track record and experience to deal with all sorts of plumbing installation, repairs, and maintenance-related work. Unless or until you hire the right person for the job, it can be quite tricky and time-consuming to look after your plumbing requirements and achieve the best results.
Here are several reasons why you should hire professional plumbers for all plumbing installation, repairs, and maintenance tasks in your home or workplace:
Professional plumbers are experts at what they do
If you're a non-professional, it is nearly impossible to understand the damage that can occur with improper plumbing methods and practices. Only a professional plumber understands the correct techniques and measures to employ to produce the highest-quality results. Certified plumbers often know what could go wrong when working with plumbing and drainage systems. Therefore, they are better-suited for the job, rather than doing it yourself.
They have the right tools and equipment
Professionally qualified plumbers will have the right tools and materials to produce the best outcomes. It might be hard for a layperson to determine all the necessary tools to complete the project. Without proper knowledge and understanding, you may end up purchasing items that aren't necessary, and end up wasting your money, time, and effort.
They deliver quality work
One thing that you can be sure of when hiring an experienced plumber is that they will deliver quality work. When they're on the job, you don't have to run around to get one single issue addressed. They know all the safety measures, so they know things like which valve should move or which equipment they should switch off before beginning to work. Also, you will less likely suffer from warranty issues or a shorter lifespan of the installed system compared to when you do it yourself.
They provide professional advice
The regular or less experienced plumbers may or may not be adequately knowledgeable about specific important plumbing tasks or tools. However, the professionals always have that extra bit of knowledge and evaluation skills that make them a better option. Their extensive knowledge and skills usually come from their level of detail when working or because of their experience. Some of them even undergo training programs to sharpen their skills and keep them updated. As a result, these individuals can easily detect a wide variety of plumbing issues using their expertise and shrewd skills. Also, they can give you accurate, critical, and trusted advice. Just don't let them coheres you into a system that's not a SpringWell system.
They have the right level of experience, training, and knowledge
Professional plumbers have an exceptional level of expertise, training, and knowledge about all aspects of plumbing. Hiring such individuals will save you from the fuss regarding the installation of your water filtration system, maintenance, and repair. Most professional plumbers receive extensive training and experience, so you can expect them to produce quality work at the highest industry standard. Their expertise also allows them to understand the problem and fix it immediately. Another remarkable benefit is that they can quickly identify the materials to use when doing repair work, installation, maintenance, and troubleshooting.
They are versatile and efficient
Competent, experienced, and reliable plumbers can resolve all kinds of plumbing issues. They can handle different plumbing issues with varying levels of complexity, which stems from their proper training and appropriate certifications. Professional plumbers are also efficient, which means that they can address the problem in a short time.
They are excellent problem solvers
Professional plumbers can quickly identify and troubleshoot plumbing issues, and also know what to do to avoid such problems in the future. These individuals strive to avoid costly mistakes and know what to do in case something comes up during repair or installation of pipes or filtering systems at your home.
Their services are more cost-effective
It might seem counter intuitive to hire a professional plumber to save money, but that's often not the case. You could shell out big bucks for DIY tools of your own to attempt installation or repairs yourself. The real expense occurs when the problem re-emerges or when new issues come up. Having to fix the same plumbing issue over and over increases your cost and can be very irritating. That's why having professional plumbing services come in and fix the problem in one session is far more cost-effective when you consider all the factors.
They prioritize safety
One of the most crucial benefits of hiring a professional plumber is safety. Many plumbing tasks involve using sharp objects and objects that transmit large volumes of electricity. If not used correctly, these tools can cause serious injury to an inexperienced plumber. Jobs, like working on a water line or changing a water heater, are risky and should be left to a qualified and skilled professional plumber.
They are insured
If you try to install a new system or fix a plumbing issue by yourself, you will have no warranty if the system, valve, or sewer line repair breaks in a few months. However, most professional plumbers offer a guarantee on their work. For that reason, you can rest assured that if something goes wrong, the plumber will resolve it at no charge to you.
Several key things to know before contacting a plumber
Gathering some critical details regarding your plumbing needs and situation before contacting the plumber can help to make the installation process much smoother and less time-consuming. The more useful information you can provide the plumber, the less time it will take, and the less the plumber will charge.
Your plumber will likely have some questions for you, too. So, be sure to do some thorough inspection and brainstorming beforehand so you can establish better communication and increase your chances of satisfaction.
Here are several things to know before picking up the phone:
What plumbing service(s) do you need?
Plumbing companies often offer a wide selection of plumbing services, including installing new pipes and water filtration systems, repairing pipes, modifying and repairing plumbing systems, remodeling bathrooms, and more. With that in mind, find out all the plumbing services you need beforehand. This information will give the plumber an idea of the necessary tools and materials for the project, as well as the amount of work and time it might take.
What type of water filtration system are you looking to install, and what is the specific model?
The kind of filtering device to be installed might affect the installation cost and may require specialized tools or methods of installation. There are several common types of filters, such as distillers, reverse osmosis filters, whole-house systems, well-water filters, water softeners, etc. Knowing at least the kind of filter will give the plumber a rough idea about things like space requirements, tools, installation time, and so on.
What is the system size?
In most cases, the specific size of the water system will determine how much you pay for installation. The dimension and weight of the system are usually available on the manufacturer's or retailer's website, or you can give them a call and find out.
Where is your main water line?
The main water line is where water enters your home and flows to other pipes and fixtures. When tapping into the plumbing system to install a water filter, conduct repairs, or react to a plumbing emergency, you will need to shut off the water supply temporarily. Since your new water system will be connected to the main water line, you should know where to find the main service line. That way, the plumber can begin working right away, instead of guessing or wasting precious time trying to find it.
What is the size of your main water line pipe?
The size of your main water line pipe determines the amount of water flowing from a pipe. The two most common water line pipe sizes are ¾″ and 1″, which are the pipe diameter. It's easy to check the size of your water line pipe. First, check if it's on the pipe itself. Typically, it will be labeled or written on the side or on a valve. If not, you can measure the copper size and other water pipe sizes using the String Method.
The String Method is possibly the best way to determine your pipe diameter size. It measures the circumference of the pipe, which is the distance it takes to go around the pipe once. Remove any insulation from the pipe. Then, using a piece of string about 6 inches long (or a cloth tape measure), wrap the string around the pipe once, then measure to the nearest 1/8 of an inch.
Once you've found the circumference, use the chart below to find your pipe or tube size.
Pipe Type Circumference Pipe size
Copper Pipe or PEX tubing 2.75″ (70mm) ¾″ pipe
3.53″ (90mm) 1″ pipe
4.32″ (110mm) 1¼″ pipe
5.10″ (130mm) 1 ½″ pipe
Steel Pipe or PVC Plastic Pipe 3.25″ (83mm) ¾″ pipe
4.00″(102mm) 1″ pipe
5.00″(127mm) 1 ¼″ pipe
6.00″(152mm) 1 ½″ pipe
Flexible (usually black) Polyethylene Pipe 2.96-3.33″ (75-85mm) ¾″ pipe
3.74-4.24″ (95-108mm) 1″ pipe
4.90-5.57″ (124-141mm) 1 ¼″ pipe
5.70-6.28″ (145-160mm) 1 ½″ pipe
Do you need a drain or a plug?
Water filtering systems like salt-based water softeners, well systems, and UV water systems will need a plug to function. So, if you're installing any of these types of filters, then you should communicate that to your plumber.
Are there any plumbing issues in your home?
Now's the perfect opportunity to address all the possible plumbing issues in your home in one go. Plumbers have to pay transportation fees, which are often included in the hiring cost. If you can find possible plumbing issues in your home and have the plumber fix them in one session, you can save a significant amount of time and money.
Key questions to ask when seeking to hire a professional plumber
Before hiring a plumber, you need to gather some vital information about the candidate. Knowing all the crucial details makes it easier to decide whether to hire them or move on to the next. Here are some essential questions to ask during the interview:
1. Do you have insurance?
Although you may have homeowner's insurance that offers some level of protection, your plumber should have workman's compensation and at least $500,000 of liability insurance. These types of insurance will protect both you and the plumber if the plumber gets injured while working on your project at your home.
2. What is your level of experience?
Determine how long the plumber's business has been in operation, and how many years of experience the person who will be doing the work has. It usually takes several years for most good plumbers to acquire adequate knowledge and skills to produce quality work.
3. What are your references?
Ask a potential plumber for references of people for whom they have done work. Then call those customers to find out if they were satisfied with the job done or if they had any complaints.
4. Do you offer a warranty?
Before signing a contract, ask what kind of guarantee or warranty comes with the plumber's work. Only work with plumbers who will guarantee their work and the parts for at least a year.
5. Do you have any social skills?
It's great to have a plumber who can communicate clearly with you, is trustworthy, shows up on time, has good work habits, such as maintaining a clean work environment, protecting your home's floors, and so forth.
6. Can you provide an estimate of the total cost and job completion time?
Try to get at least three written estimates from three different plumbers.  Most will come to check out the job before they start work. Once your prospective plumber has had a chance to look over the job and provides you with an estimate, ask if what he has quoted you includes labor, materials, and contingency for any problems. Some estimates look good on paper but only include the essential cost of materials and will skyrocket as the job goes on.
7. What is the payment schedule?
Always ask when the plumber expects to be paid, and how much of the total cost he wants upfront. If they ask for 100 percent of the cost upfront before the job starts, walk away. Some will use a system of "milestones." Once a specific piece of work is completed, you will be required to pay a certain percentage.
Some plumbers work on a per-hour basis. Time payments can work, but if the plumber works slowly, you may be paying too much for too little.9. Where is the company located?
Be cautious of plumbers who give you a PO Box with no street address or use only an answering service. Also, never hire someone who comes uninvited to your door and can't provide proof of qualifications.
The Best Places to Find Good Plumbers
Of course, some of these sources are much more reliable than others.
– Personal Referrals or Call Our Team
Nothing's better than getting a personal referral from a family member or friend that you trust.  You can always call our friendly staff as we may have a trusted plumber to recommend in your area.
– Online Referral Sites/Services