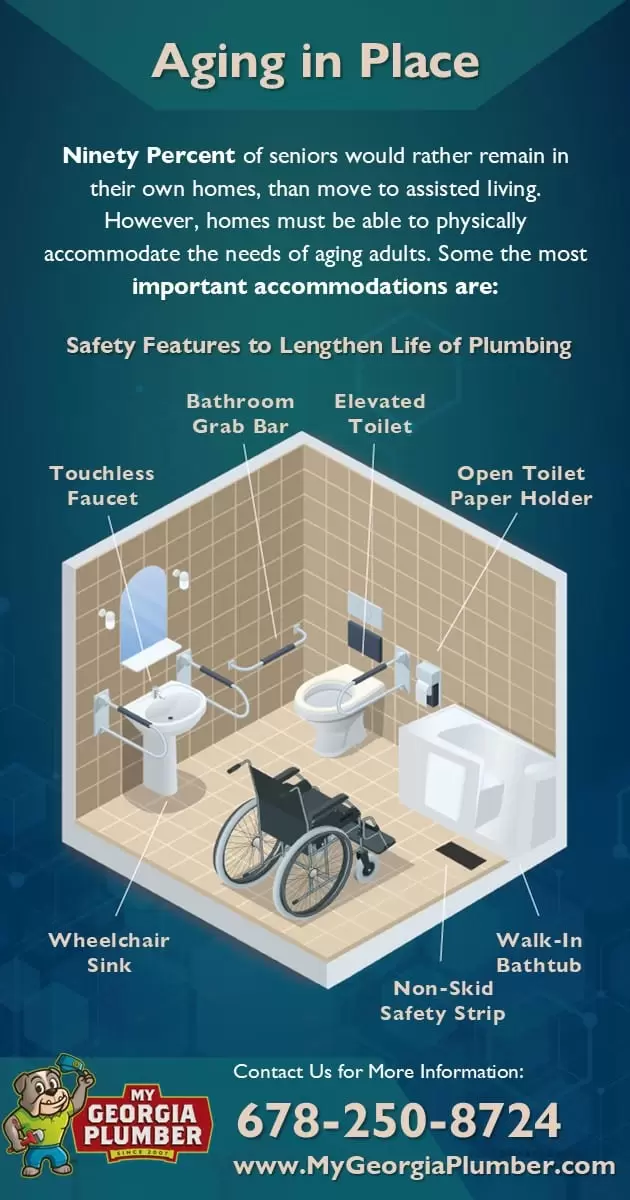 Create an Accessible Aging in-Place Bathroom: Trust My Georgia Plumber
Are you or your loved ones searching for a safe and convenient bathroom to age in place? Discover My Georgia Plumber's expertise in bathroom modifications and renovations designed for seniors and those with mobility challenges. Our goal is to create a bathroom that fosters independence, peace of mind, and accessibility.
Our Aging in Place Bathroom Services:
Barrier-Free Showers: Replace traditional tubs with spacious roll-in showers, eliminating barriers and ensuring easy access. Our team prioritizes slip-resistant flooring, grab bars, and comfortable seating for enhanced safety.
Walk-in Tubs: Benefit from walk-in tubs featuring low-entry doors, built-in seating, and therapeutic elements. This solution guarantees a soothing and secure bathing experience, minimizing the risk of slips and falls.
Grab Bars and Handrails: Strategically position grab bars and handrails throughout the bathroom to provide stability and support. Our professionals ensure secure installation meeting ADA guidelines for optimal safety.
Raised Toilets: Enhance ease of use with raised toilets, facilitating sitting down and standing up. We can also install grab bars near the toilet for added stability and convenience.
Non-Slip Flooring: Upgrade your flooring to non-slip materials, significantly reducing the risk of accidents even in wet conditions. Our team recommends and installs safe, visually appealing flooring options.
Improved Lighting: Optimize visibility and prevent falls by improving bathroom lighting. We install energy-efficient fixtures and additional task lighting as necessary.
Accessible Sink and Countertop: Modify your sink and countertop to accommodate wheelchair access, ensuring a comfortable height. We can also install lever-style faucet handles for easier use.
Why Choose My Georgia Plumber?
Experience and Expertise: Benefit from our extensive experience in designing and remodeling aging-in-place bathrooms. Our team understands the unique needs and challenges faced by seniors and individuals with limited mobility.
Customized Solutions: We provide personalized solutions tailored to your specific requirements, ensuring your bathroom modifications align with your functional and aesthetic preferences.
Superior Workmanship: Count on our team to deliver top-quality craftsmanship, utilizing durable materials and adhering to industry standards. We prioritize the longevity and safety of your bathroom modifications.
Attention to Detail: We pay meticulous attention to every detail, ensuring your bathroom not only meets accessibility needs but also reflects your style and preferences.
Customer Satisfaction: Your satisfaction is our top priority. Expect excellent customer service, clear communication, and a seamless remodeling experience from start to finish.
Contact Us Today:
Ready to create an accessible aging-in-place bathroom that combines functionality and style? Schedule a consultation with My Georgia Plumber today. Our team will closely collaborate with you, understanding your needs, providing recommendations, and offering a detailed estimate. Trust us to design a bathroom that enables comfortable and safe aging in place.
📞 Call us at (770)592-0081 🌐 Visit our website at www.MyGeorgiaPlumber.com 📧 Email us at Service@MyGeorgiaPlumber.com
Choose My Georgia Plumber for an accessible bathroom that promotes independence and safety during the aging process!