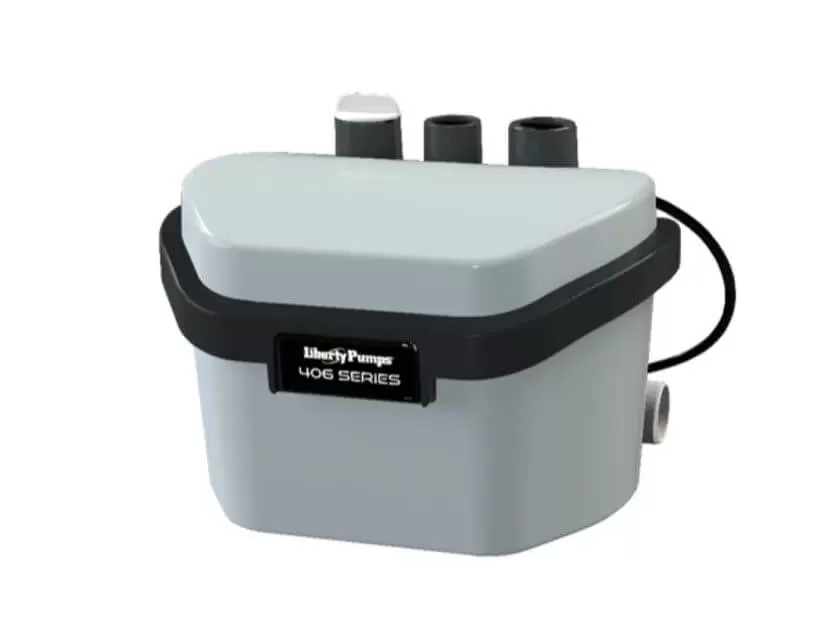 Introducing the Model 406 Drain Pump
The Compact Solution for Gray Water:
Liberty Pumps has unveiled its latest addition to the drain pump lineup, the Model 406. This innovative unit is the smallest in size, making it a perfect choice for pumping gray wastewater from sinks or showers. Its compact design allows for easy installation inside a cabinet or vanity, providing convenience without sacrificing functionality. Let's explore the features that make the Model 406 stand out.
Compact and Stylish Design:
The Model 406 boasts a contemporary appliance-style design, adding a touch of modernity to any space. Its compact size ensures a seamless fit inside cabinets or vanities, making it an ideal solution for tight spaces. Now you can enjoy efficient gray water pumping without compromising on aesthetics.
Multiple Inlet Locations for Versatile Installation:
One of the key features of the Model 406 is its multiple inlet locations. This flexibility allows for versatile installation options, catering to various plumbing configurations. Whether you need to connect it to a sink or a shower, this drain pump has you covered.
Whisper-Quiet Operation:
No one likes a noisy plumbing system. That's why the Model 406 is designed for extremely quiet operation. Say goodbye to disruptive pump noises and enjoy a peaceful environment without compromising on performance.
Adaptable Discharge Options:
The Model 406 is compatible with 1-inch, 1-1/4-inch, or 1-1/2-inch pipe sizes, providing versatility for different plumbing setups. You can easily connect the discharge to the appropriate pipe size, ensuring efficient wastewater removal.
Integrated Check Valves for Added Convenience:
To enhance functionality, the Model 406 comes equipped with integral check valves. These valves prevent backflow and ensure smooth operation, eliminating the need for additional components. The unit is designed with convenience in mind.
Understanding Gray Water:
If you're unfamiliar with the concept of gray water, visit our Plumbing Glossary for a detailed explanation. Gray water plays an essential role in sustainable water usage and can be effectively managed with the right drainage solutions.
Your Trusted Plumbing Experts:
For over 30 years, My Georgia Plumber has been a trusted name in plumbing services. You can now conveniently schedule your plumbing appointment online, or reach out to our friendly staff at 770-268-2331 to book your next service.
Choose My Georgia Plumber for all your plumbing needs, and let us handle your drain pump installations, repairs, and replacements with professionalism and expertise.