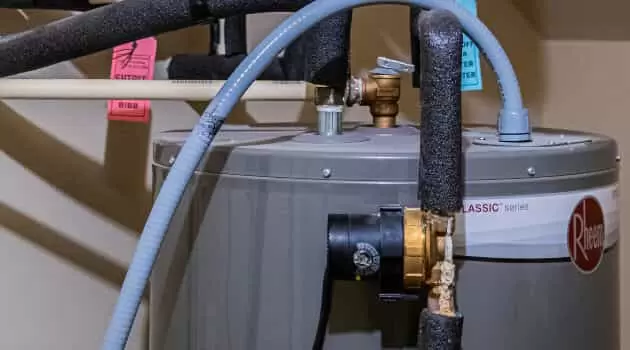 Are you looking for a Rheem water heater in North Metro Atlanta? Give My Georgia Plumber a call! My Georgia Plumber provides residential and commercial Rheem water heater installation, maintenance, and repair. We can help you select the best Rheem water heater for your home or place of business.
About Rheem Water Heaters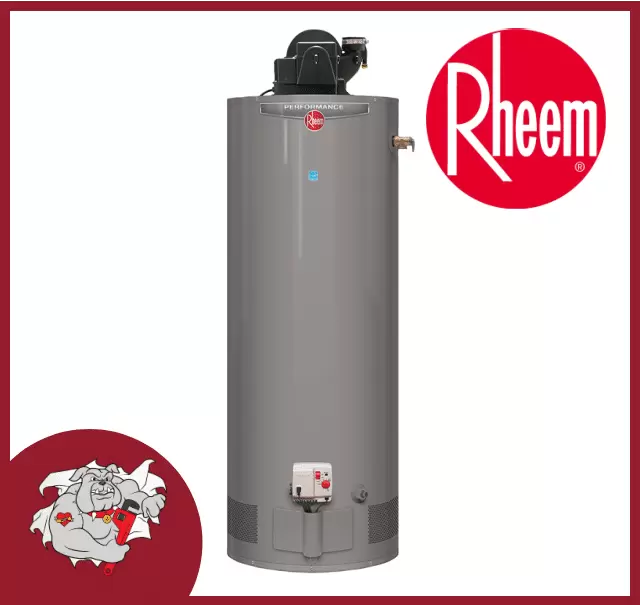 Rheem water heaters are known for their dependability, high-quality construction, and efficiency. With nearly 100 years of experience producing hot water heaters, Rheem is the industry-standard and one of the main brands we install.
Rheem offers a wide variety of residential water heaters to fit any application or set-up. Whether you need a small gas-powered water heater, an electric model, or even a specialty unit, such as direct-vent, or power-vent water heater, hybrid or tankless, there is a Rheem unit for you.
There are three different series of Rheem residential water heaters to choose from. There are differences in warranty length, price, and features. Our installation coordinators can walk you through the consideration process and help you pick the perfect Rheem water heater for your home.
Performance Series
Consider the Performance Series to be the entry-level series for Rheem. These are fantastic water heaters, but they do require annual maintenance to drain the tank. This prevents harmful mineral deposits from forming and cracking the glass lining of the storage tank.
Rheem Performance water heaters come with a 6-year warranty on parts & tank, and a 1-year warranty on labor*. The 6-year warranty does not means the unit will only last that long: your water heater, if properly maintained, should have a life-span of at least 8 years.
Performance Plus Series
The Performance Plus series from Rheem is a step-up. These water heaters are self-cleaning, which means the unit moves water around the tank to prevent mineral deposits from forming quickly. Additionally, these water heaters are slightly more energy efficient, which will mitigate your energy expenses.
Rheem Performance Plus water heaters from Fast Water Heater Company come with a 10-year warranty on parts & tank, and a 2-year labor warranty*. This is a very popular series because life expectancy of a water heater is around ten years, so the warranty covers most of a heater's usable life.
Platinum Plus Series
Rheem Platinum Plus water heaters are the top-of-the-line units sold for residential applications. With higher energy efficiency, metal & brass parts, the self-cleaning feature and an additional anode rod for corrosion prevention, these water heaters offer unmatched performance.
Rheem Platinum Plus hot water heaters come with a 15-year warranty (Fast Water Heater Co. adds 3-years to manufacturer's warranty) on parts & tank, and a 3-year, industry leading labor warranty*. The warranty is not prorated either, so if your tank fails after 14 years, you will get a brand new one for free.
Energy Star Certified Water Heaters
Starting in 2015, all residential water heaters are required to be Energy Star certified. The Rheem Energy Star water heaters we carry offer superior efficiency than standard units and should save you money on your energy bills annually. They achieve this through the use of an electric ignition and damper. Instead of a burner heating the water constantly, the electric burner assembly kicks in when it is needed.
One thing to note, though; Energy Star water heaters must be plugged into an electrical outlet. They have a long cord, but you must have an electrical outlet within 15-feet of the unit. Also, if you lose electricity during a power outage, the unit will not be able to heat your water. But once power is restored, the unit will automatically start working again.
*See written warranty for complete details
Rheem Water Heater Installation
The water heater experts at My Georgia Plumber are here to handle all your Rheem water heaters needs. We proudly serve Cherokee, Cobb, North Fulton, and Forsyth counties and stand behind Rheem and Rheem products. All installation and services are done in a timely manner without sacrificing quality. Our plumbing pros will help you choose the most cost-effective model for your installation and budget.
Rheem Water Heater Service and Maintenance
Routine maintenance for any water heater will help to ensure your new water heater not only runs efficiently but will also guarantee you the maximum life span for your heater. Call the water heater professionals at My Georgia Plumber to schedule the annual maintenance and inspection of your water heater and plumbing system. We offer comprehensive maintenance, repair, and inspection services for your entire plumbing system. We can also diagnose and repair problems with your water heater quickly and look for any other hidden concerns. Once repairs are completed we ensure everything is performing at peak levels.
We install Rheem water heaters in Canton, Woodstock, Holly Springs, Ball Ground, Waleska, Cartersville, White, Jasper, Alpharetta, Milton, Roswell, Atlanta, Marietta, Powder Springs, Cumming, Suwanee, Johns Creek, Smyrna, Dallas, Dunwoody, and all neighborhoods in between!
Call us to get a plumber out to fix your plumbing emergency at 770-268-2331 or simply book online.