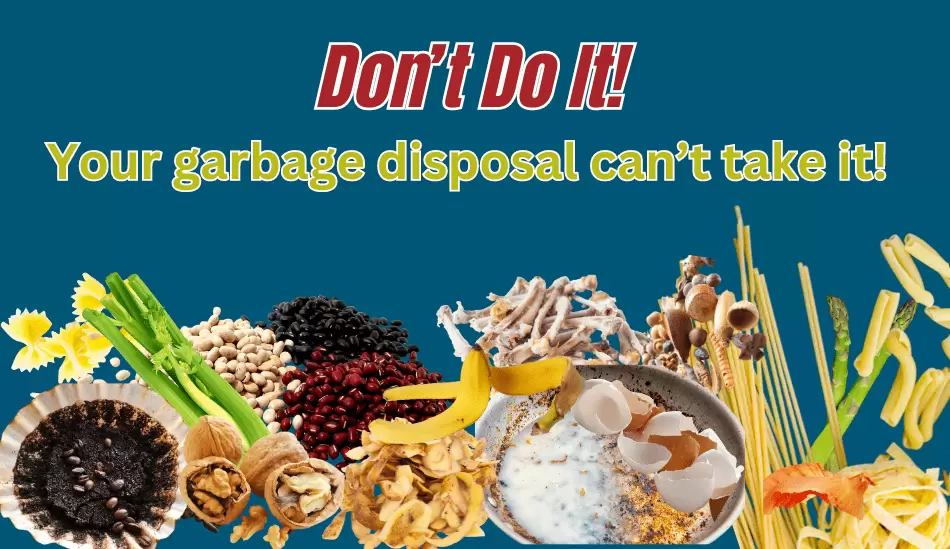 Thanksgiving is just around the corner.
Putting everything down the disposal is NOT the way to cut down on cleaning time, Scout's honor.
Things to remember:
A garbage disposal is not a blender
Garbage disposals grind things; they do not slice and dice
What are some items to avoid?
Eggshells

They don't help sharpen the blades. This is an old wives' tale!
Beans, Pasta, and Bread

These items absorb the water and swell in the pipes.  A recipe for disaster!
Coffee Grounds 

The grounds stick together and form a gritty sediment that can contribute to a clog.
Nuts, Shells, Pits, and Seeds

When nuts and seeds are put down the disposal, a paste coats the plumbing pipes.
Onion Skins 

They're soft and flexible so they wrap themselves around the grinders, slipping under and making the grinders come to a stop.  If they don't make it to the grinders, they go down the pipes and can act as a net, collecting other food particles to produce a clog.
Oil, Grease, and Fat 

Never pour hot grease, oil, or solidified fat down the sink. It can re-harden and produces clogs.
Potato Peels 

Thee skins create a paste that acts like glue. Elmer's glue doesn't go down the sink… potato peels don't either!
Fibrous or Stringy Fruits and Veggies

It's just like biting into a piece of celery or asparagus and getting those fiber-like strings that get stuck everywhere. Crazy, right? It's the same for the grinders in garbage disposal and, unfortunately, they don't make floss for garbage disposals…that would be a service call to My Georgia Plumber.
Animal Bones

Finally, THROW ANIMAL BONES IN THE GARBAGE.  NOT THE GARBAGE DISPOSAL! There is a significant risk of breaking the garbage disposal if bones are ground.
For more information, check out last year's blog for even more on the health of garbage disposals!
Call in The Big Dogs
When you choose My Georgia Plumber, you're choosing professionalism, expertise, and a commitment to excellence. We take pride in providing you with top-notch service, ensuring you're completely satisfied with each call.
This Thanksgiving, don't hesitate to reach out to My Georgia Plumber – even on the day –, and we'll be happy to assist you with any and all plumbing needs. Give us a call at 770-592-0081.
From all of us at My Georgia Plumber, we wish you, your family, and your disposal a very happy Thanksgiving and holiday season!